India's Narendra Modi and Arvind Kejriwal battle for votes in Varanasi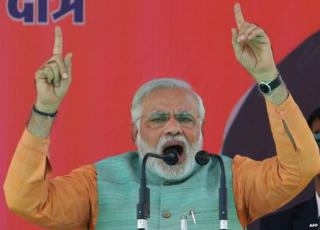 One of the oldest cities in the world, Varanasi has become the newest battleground in India's general election. The city is set to witness a fight between the main opposition Bharatiya Janata Party's candidate for prime minister, Narendra Modi, and anti-corruption campaigner Arvind Kejriwal. The BBC's Geeta Pandey reports on the battle for votes.
Last month, when the controversial Mr Modi announced his intention to stand in Varanasi, the most sacred city for Hindus, he was not merely grandstanding.
His decision had been cleverly thought out - some saw it as a political masterstroke.
On the one hand, it was meant to woo the BJP's core Hindu voter; on the other, it aimed to enthuse the party cadre in Uttar Pradesh.
Any party with dreams of ruling India must perform well in the state, India's most populous with more than 200 million people and 80 parliamentary seats.
Mr Modi is the long-time chief minister of the western state of Gujarat and it was on his watch in 2002 that more than 1,000 people, mostly Muslims, were killed in some of the worst rioting seen in independent India.
Mr Modi denies wrongdoing and has been cleared by a court-appointed panel, but criticism that he failed to protect citizens has dogged him since.
The BJP and its leader are hoping voters are won over by his reputation as an able administrator who has made Gujarat into an economic powerhouse and one of India's most developed states.
'Neglected'
Varanasi, on the banks of the Ganges, has long been neglected despite its religious significance - it's filthy, chaotic and overwhelming and it's the dismal state of the city's infrastructure that draws many to Mr Modi.
Senior BJP leader in the city Laxman Acharya says Mr Modi's reasons for contesting from Varanasi are rather altruistic.
"He believes in let's go light a lamp where it's still dark," Mr Acharya says.
"This ancient city has been neglected because of a lack of leadership. So now the voters are very happy that Mr Modi is contesting from here and they believe that this backward area will see some development."
Mr Acharya, who is part of the committee looking after the BJP's poll campaign, says video vans are criss-crossing the constituency, taking Mr Modi's message to the voters.
Mr Modi himself is expected to visit the city to address rallies and hold meetings before the voting which is due on 12 May.
Taking on Mr Modi is Arvind Kejriwal, the maverick leader of the new Aam Aadmi Party (AAP), which performed surprisingly well in the recent Delhi assembly elections and formed a minority government which lasted 49 days in power.
The AAP's slogan for Varanasi is "river, weaver and sewer" - the party points to the high levels of pollution in the holy river Ganges, the plight of the hundreds of thousands of weavers involved in making the world famous Banarasi silk saris, and the filthy open drains of the city.
Call for revolution
At a rally attended by several thousand people at Varanasi's Beniyabagh grounds in late March, Mr Kejriwal appealed to farmers, traders, small businessmen, weavers and housewives not to vote for the BJP leader.
"If Mr Modi really stood for development, I would have joined hands with him, worked with him," he said.
"The BJP and the Congress [India's governing party] have been looting the country for the past 65 years since its independence.
"Let us beat both of them and bring in revolution," he said to loud applause and much cheering from his supporters.
The campaign has weeks to run, but at the moment it looks unlikely that Mr Kejriwal will be able to beat Mr Modi, and BJP leaders are dismissive of his candidacy.
"People are not taking him seriously," Laxman Acharya says, adding that he is confident Mr Modi will win.
"So far, the city has elected MPs, now it will elect the PM," he said.
AAP leaders, however, point out that no-one expected Mr Kejriwal to defeat the three-term Delhi chief minister Sheila Dikshit in last year's state elections either.
"People are joining us every day. They are looking at us as an alternative," senior AAP leader in Varanasi Sanjeev Singh told the BBC.
Mr Kejriwal himself says winning or losing is immaterial and that if he wanted to win, "I would have chosen a safe seat".
Huge excitement
But the Modi-Kejriwal contest has generated huge excitement in Varanasi and is all the talk at the AAP rally, in the city's congested narrow lanes, its noisy and chaotic traffic squares and tiny hole-in-the-wall eating places.
To make an impact in the city, the AAP is looking at its 350,000 Muslim voters, naturally wary of Mr Modi's hardline Hindu credentials, and many here have come out in open support for him.
"I'm supporting him because he is an honest man," says businessman Mohammad Aqeel. "Modi is fighting only for Hindus. But Mr Kejriwal is fighting for all religions and castes."
Housewife Tameez Fatima says she is "ashamed that India still has such high levels of corruption" and is ready to "even sacrifice my life for Mr Kejriwal".
RK Jaiswal, who is retired and spends his days in prayer and meditation, is "110% confident" that Mr Kejriwal will win because "every honest man" will support him.
But Varanasi has long been a stronghold of the BJP - the party has won the seat five times in the past six elections and Mr Modi's supporters insist that it will be no different this time.
Lawyer Omkar Nath Shukla says Mr Modi will win "because he's the most competitive" and if he wins, then "naturally attention will be on the city's development and the Ganges will be cleaned".
Rakesh Kesri, owner of the famous snack joint Kashi Chaat Bhandar and long-time BJP supporter, adds: "I'm 99% sure that he will win, the other 1% is in God's hands."
Some of Mr Modi's political rivals, however, believe that the BJP leader's foray into Varanasi could be the beginning of the end for him.
"Varanasi is where people come to be cremated. Hindus believe that if you are cremated here, you will attain moksha [salvation] and your soul will go straight to heaven," senior Congress party politician Mani Shankar Pandey says.
"These are Mr Modi's last days. He will lose, and achieve moksha from politics," he adds.