Ex-TV star Smriti Irani to stand against Rahul Gandhi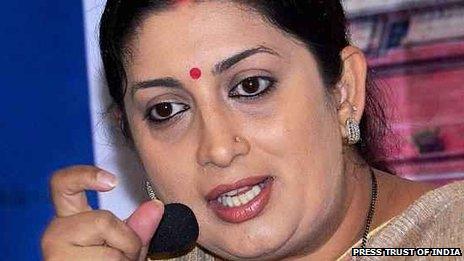 India's main opposition BJP has chosen actor-turned politician Smriti Irani to stand against Congress party leader Rahul Gandhi in the general elections.
Ms Irani, who was the leading actress in one of India's most popular TV soaps, will take on Mr Gandhi in the Amethi constituency in Uttar Pradesh.
Polling to elect a new lower house will be held from 7 April to 12 May. Votes will be counted on 16 May.
Some 814 million people are eligible to vote in the elections.
The governing Congress party and the Bharatiya Janata Party (BJP) will be battling a host of smaller parties.
Uttar Pradesh, where Amethi is located, is often described as India's battleground state.
Any party wishing to come to power in Delhi must do well in the state, which sends more MPs - 80 - to parliament than any other.
Amethi is also a traditional family constituency of the Gandhi family - it was formerly held by Rahul Gandhi's father and former prime minister Rajiv Gandhi, who was assassinated in 1991.
Mr Gandhi is defending a massive majority. He won over 70% of the vote in Amethi in 2009 - the BJP candidate came third with less than 10%.
But even if Ms Irani does not win, analysts say the BJP's decision to field her in Amethi will make the contest a "high-profile clash".
She played the daughter-in-law in the hit soap, Kyunki Saas Bhi Kabhi Bahu Thi (Because a mother-in-law was once a daughter-in-law, too), which ran for more than 1,800 episodes from 2000-2008.
"In the name of the family, the people of Amethi have been kept away from the fruits of development for too long. I think it is an extreme shame," Ms Irani was quoted as saying by the Press Trust of India on Monday.