Media say Powell's resignation to help India-US ties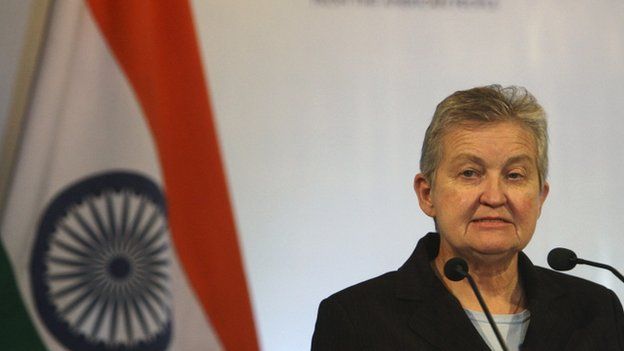 Media feel the resignation of the US ambassador to India, Nancy Powell, is likely to improve the "troubled relations" between the two countries.
Ms Powell has been under pressure since the arrest of Indian diplomat Devyani Khobragade in New York sparked a diplomatic row between the nations.
Delhi ordered a series of reprisals against the US in the wake of Ms Khobragade's arrest in December last year.
Security barricades around the US embassy in the capital were removed and a visiting US delegation was snubbed by senior Indian politicians and officials.
Ms Khobragade was detained in New York on suspicion of visa fraud and making false statements, after being accused of paying her Indian maid below the US minimum wage.
She denied any wrongdoing and returned to India in January after Delhi refused to waive her diplomatic immunity.
Ms Powell's resignation is "being seen as a move that will contribute to resetting the troubled Indo-US relationship", the Hindustan Times reports.
In the last two years Ms Powell saw ties "plummeting from a very high point to the verge of breaking up… Apparently peeved at the downslide in India-US relations during her tenure, she even announced ending of her 37-year-old diplomatic career", the DNA newspaper says.
The Indian Express says her resignation "is being seen as an outcome of the diplomatic fracas the two countries are still recovering from".
Moving on to election-related news, media feel some politicians are continuing to break the Election Commission's code of conduct by giving "hate speeches".
Agriculture Minister Sharad Pawar recently said that the main opposition Bharatiya Janata Party's (BJP) PM candidate Narendra Modi "needed to be treated in a mental hospital".
Heeralal Regar, a BJP politician in the northern state of Rajasthan, allegedly said that Italian-born Congress president Sonia Gandhi and her son Rahul should be "stripped and sent back to Italy".
Newspapers say the use of such "foul language" is in "bad taste".
"Everything is fair in love and war, they say. But where exactly does one draw the line for 'fair'? Apparently, when it comes to politics, very far ahead... the recent surge in the use of foul language and brazen comments by several leaders, including bigwigs, has raised one obvious question: Has the political discourse in India hit an all-time low?" the Hindustan Times says.
The paper adds that "there is no place for such discourse in public life… Besides, they [politicians] should also know that people who live in glass houses shouldn't throw stones".
The Election Commission needs to "crack down on extreme instances of hate speech, when what seems at stake is not just insult to a candidate but active incitement to violence", The Times of India says.
Meanwhile, the Delhi Election Commission has given voting rights to 8,000 homeless people, the NDTV website reports.
The election watchdog usually asks for an address proof before giving voting rights to citizens.
"We will vote this time like other countrymen. We have been issued identity cards to vote for the first time," the report quotes Paan Chand Mishra, who lives in a night shelter in Delhi, as saying.
And finally, the elections are also seen as "playing villain in the love stories of thousands of young couples in Delhi" because most government officials and employees are busy on election duty, The Pioneer reports.
"Additional district magistrates, who are also marriage officers in their respective revenue districts, are busy with election preparations and the applicants for court marriages either have to return disappointed or wait for hours to get their marriage solemnised," the report adds.
BBC Monitoring reports and analyses news from TV, radio, web and print media around the world. For more reports from BBC Monitoring, click here. You can follow BBC Monitoring on Twitter and Facebook.
Related Internet Links
The BBC is not responsible for the content of external sites.