India's BJP manifesto pledges to improve economy and curb corruption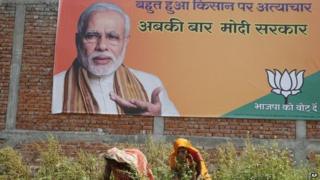 India's main opposition BJP has promised to improve the economy and infrastructure and curb corruption if it wins in the general elections.
The party launched its manifesto on the day millions of Indians began voting to elect a new government.
The polling, to be held in nine phases, ends on 12 May. Votes will be counted on 16 May.
With some 814 million eligible voters, India's election will be the largest the world has seen.
The BJP, led by its prime ministerial candidate Narendra Modi - the charismatic and controversial Hindu nationalist leader - is ahead in all opinion polls.
The 52-page document, released by top BJP leaders at the party headquarters in Delhi on Monday morning, also includes contentious issues like construction of a Ram temple in the northern town of Ayodhya.
"This manifesto is not an election formality for us. This is our aim and our direction. Good governance and development is our goal," Mr Modi said after the release of the document.
"We have chalked out a plan to improve the economic situation in the country... As far as infrastructure is concerned, improving manufacturing is important and it needs to be export oriented. We need to build a Brand India," senior BJP leader and head of the manifesto committee Murli Manohar Joshi said.
"The sooner we do it the better it would be to generate more jobs," he added.
On the controversial issue of foreign direct investment (FDI), the BJP leader said the party was not opposed to FDI as it will create employment, but said it will not be allowed in multi-brand retail.
India opened up multi-brand retail to foreign investors in 2012, but the move triggered a series of protests with critics saying that the arrival of big name supermarkets would hurt the small retailers in the country.
The elections pit the BJP and its allies against the governing Congress party-led coalition which is facing tremendous voter anger because of economic slowdown, high inflation and rampant corruption.
Prime Minister Manmohan Singh has already said he will step down after the elections and the Congress is being led by Rahul Gandhi, the latest member of the influential Nehru-Gandhi dynasty.