Indian media urge people to vote in huge numbers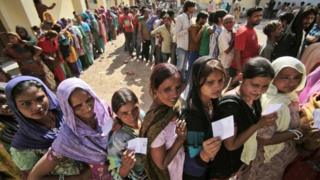 Media in India are urging citizens to vote in huge numbers on the first big day of the general elections.
Around 110 million voters, spread across 11 states and three union territories, are deciding the fate of 154 candidates in 92 constituencies on Thursday.
The nine-phase vote began on Monday and will conclude on 12 May. Votes will be counted on 16 May.
"It's your vote Delhi, make it count" reads a front-page headline in the Hindustan Times. "Cast your vote, change the destiny of the country", says another headline in Hindi daily Amar Ujala.
"Encouraged by the 'historic' voter turnout in the recently held Delhi assembly elections, Delhi's Chief Electoral Officer Vijay Dev has appealed to residents to come out and vote", the NDTV website reports.
He is expecting that Delhi's voter turnout will break past records.
Most papers are also carrying full-length paid advertisements of the main opposition Bharatiya Janata Party's (BJP) prime ministerial candidate Narendra Modi on their front pages.
The ruling Congress party has published fewer adverts in newspapers, while the new anti-corruption Aam Aadmi Party (AAP) is almost absent from newspaper advertisements.
Analysts say this advert strategy shows that the BJP is feeling confident about winning the 2014 general election.
Meanwhile, various social groups have also come up with some innovative steps to encourage voters.
Some restaurants have reduced their prices for those who are voting today. And all petrol stations in Delhi are offering discounts to voters.
An international chain of coffee shops has gone a step further with its offer of a free cup of coffee to those who have voted.
Three-way contest
Newspapers and websites also report that India is witnessing its "first triangular fight" in the general elections.
The Congress party and the BJP are locked in a direct fight on most seats, but papers say that the AAP cannot be underestimated.
"The main battle will involve the Congress, which lost control of Delhi assembly in December 2013, a confident BJP and the vocal AAP that ruled Delhi for 49 days until 14 February," reports The Business Standard.
"It is for the first time that Delhi is witnessing a three-way contest for Lok Sabha (lower house of parliament) polls. Although Delhi has only seven Lok Sabha seats, election results carry significance due to its political symbolism," The Pioneer reports.
Echoing similar sentiments, the Deccan Herald reports said that the "entry of Arvind Kejriwal-led AAP has changed the dimension of the elections as almost all constituencies are likely to witness a three-cornered fight".
"For the AAP, the election assumes a greater significance as it will be an acid test for the new party's perceived erosion of support base," it adds.
'Married Modi'
Meanwhile, papers say India's first-time voters are "enthusiastically" participating in the general elections.
"Excited about casting vote for the first time, young voters feel the youth can revolutionise the political system," says The Asian Age.
India has more than 150 million first-time voters.
And finally, Mr Modi has for the first time stated that he is married, the Deccan Herald reports.
"So far, Modi used to leave the column of spouse which is to be filled in an affidavit as blank," the report adds.
According to reports, Mr Modi's wife Jashodaben is a retired government school teacher living in the western state of Gujarat, The Business Standard reports.
"In fact he has always said that he had no family life and his life was dedicated to the nation. At one point of time during his speeches, Mr Modi went on to say that since he did not have a family, he could not practise corrupt ways," the report adds.
BBC Monitoring reports and analyses news from TV, radio, web and print media around the world. For more reports from BBC Monitoring, click here. You can follow BBC Monitoring on Twitter and Facebook.