India election: BJP 'bachelor' Modi admits marriage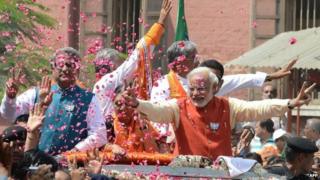 Narendra Modi, the controversial prime ministerial candidate of India's main opposition Bharatiya Janata Party (BJP), has for the first time publicly admitted that he is married.
Mr Modi, 63, made the declaration when he filed election nomination papers.
He married Jashodaben when he was 17 but the couple have lived apart.
He has always avoided questions on his personal life amid suggestions he wished to appear celibate for Hindu nationalist reasons.
Jashodaben is a retired school teacher and reports say she lives in a one-room house in a village in Gujarat.
Mr Modi, who has been chief minister of the western state of Gujarat since 2001, is standing for parliament for the first time.
In his nomination form for Vadodara constituency in Gujarat, he wrote the name "Jashodaben" in a mandatory column regarding his marital status.
In previous elections, including the 2012 Gujarat assembly elections, he left the column blank.
Critics have accused Mr Modi of deserting his wife after he joined the Hindu nationalist organisation Rashtriya Swayamsevak Sangh (RSS), which prizes celibacy.
They say the fact that he has refused to acknowledge her for so long shows his poor attitude to women.
Three months
Reports say Mr Modi's decision to finally acknowledge her came after "strict legal advice to come clean" on his marriage.
In an interview to The Indian Express in February, Jashodaben said she lived on a monthly pension of 14,000 rupees ($232; £138).
She said Mr Modi had left her after three years, during which they spent some three months together, and that they had parted amicably.
"Narendra was married to Jashodaben Chiman Modi at a very young age by our parents, but it was only a formal ritual..." Mr Modi's older brother Som said in a statement issued by the party's Gujarat wing on Thursday.
The BJP leader is seen as a dynamic and efficient leader who has made his state an economic powerhouse.
But he also is accused of doing little to stop the 2002 religious riots when more than 1,000 people, mostly Muslims, were killed - an allegation he has consistently denied.