Indian election spoofs get voters laughing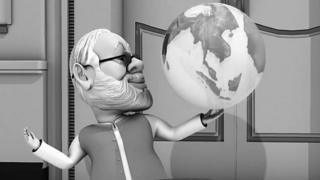 A barrage of political spoofs on the internet and TV is ensuring that every Indian politician is cut down to size, writes Jay Mazoomdaar.
For a people not known to take themselves lightly, a surprising number of Indians are laughing their way to the general election.
A generous dose of irreverent political humour is now competing with shrill campaign rhetoric, thanks to a new crop of satirists.
The genre is not new in India - there is a rich tradition of cartoons in newspapers - but the appetite for political satire is.
CNN-IBN's spoof show - The Week That Wasn't, starring Cyrus Broacha - was popular long before the last general elections in 2009, and Hindi show Pol Khol (Expose) by Shekhar Suman on Star News became a hit during the 2004 elections.
"Our shows have increased the appetite for humour in India," says Mr Broacha.
"Remember Mel Brooks playing Hitler? It is all about touching the untouchable, the demi-gods and demons of politics. We helped open the door and now you have so many spoofs, particularly on the internet."
Punching bag
India's first satire website Faking News emerged in 2008. The UnReal Times, touted as the Indian version of the Onion, followed in 2011.
Since then, hugely popular start-ups like AIB and The Viral Fever (TVF) have joined the fray. Meanwhile most news channels have devised their own weekly and even daily shows to lampoon politicians.
The response is overwhelming.
Nayak 2 by AIB attracted well over three million hits on YouTube in just over two months.
In it, actor Alok Nath, a ridiculously righteous father figure in TV soaps and Bollywood films, helps create the political persona of former Delhi Chief Minister Arvind Kejriwal - a broom-wielding, muffler-sporting, "gareeb-max" (ultra poor) leader of "aam aadmi" (the common man).
Mr Kejriwal is also the favourite target of TVF's Qtiyapa. In a spoof watched by over three million viewers since February, the former Delhi chief minister fights for honesty in Bollywood, complaining that a film called Ship of Theseus, an allegorical take on organ donation, did not feature a single boat.
In a recent episode of his show, Mr Broacha makes fun of Congress Vice-President Rahul Gandhi's first-ever TV interview, where he repeated the phrases "RTI (right to information)", "systemic change" and "women's empowerment" several times.
Asked "how many Congressmen does it take to change a light bulb", the fake Rahul wonders poker-faced if the light indeed goes off when the fridge door is closed.
Prime Minister Manmohan Singh's Facebook LookBack video by The UnReal Times has been watched nearly half a million times on YouTube in less than two months. Their Rahul.One - The Next Level: 2014, a super-hero movie trailer featuring Rahul Gandhi and his mentor Digvijay Singh - is another big draw.
Lampooning politicians
Dhol Ki Pol, a "politoon" series on YouTube, takes a swipe at BJP's PM candidate Narendra Modi after the most iconic sequence of Charlie Chaplin's The Great Dictator.
Curiously, most spoofs of Mr Modi on the internet are unattributed. In July 2013, a website lampooning his agenda was taken down. It soon reappeared though, claiming that "ideas must not die out of fear".
EP Unny, chief political cartoonist of the Indian Express group, is proud of the boldness of his colleagues in a country known to arrest cartoonists and remove cartoons from textbooks.
"There is no rule for laughter. So, we have to put up with collateral damage, if any, and we expect that maturity from the political class," he says.
It is not so much the politicians, points out Mr Broacha, but their humourless followers one needs to watch out for. "The wider reach of vernacular languages penetrates different layers of sensitivity. I keep that in mind while doing Hindi shows," he says.
A heavy dose of irreverence is needed to make people smile, says CS Krishna of UnReal Times. "When we make a point, we do it in the least filtered, least censored way possible," adds Rohan Joshi of AIB.
But are they trivialising politics by lampooning politicians?
'Inspired from reality'
While Arunabh Kumar of TVF claims that "art has the habit of getting inspired from reality", Mr Joshi feels that "trivialising politicians can be a sharp way to make serious, non-trivial points".
Last year, British comedian Russell Brand's refusal to "be complicit in this ridiculous illusion" of politics-as-usual kicked off a global debate.
While Mr Unny finds nothing wrong in satire fuelling a degree of disenchantment with the system - "better be irreverent than apolitical" - the younger lot prefers to tread more cautiously.
For Mr Krishna, the "intention is not to make people lose faith in our institutions and polity". Mr Joshi claims that though the tone of satirical podcasts is often cynical, they are not calling for disengagement.
TVF's new YouTube channel Recycle Bin, points out Mr Kumar, has tied up with Association for Democratic Reforms, a civil civil society group vying for transparency in politics, to create content that make the "youth politically more aware in an entertaining fashion".
"A staggering number of young people don't read papers or pay much attention to the TV news. Often, a funny tweet or a parody video is their first source of information," says Mr Joshi.
Mr Broacha is not taking himself too seriously.
"Let's leave real satire to Jonathan Swift. Our stuff is comedy that draws people. It is perhaps the lowest form of political engagement but we get the class that is quick to turn their back on politics talking."
Jay Mazoomdaar is an independent Delhi-based journalist