Indian media praise poll watchdog's ban on 'hate speech'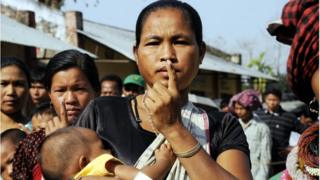 Media in India welcome the election watchdog's ban on two politicians from holding public meetings over their "inflammatory comments".
The Election Commission (EC) has imposed a ban on Amit Shah, a top aide of the main opposition Bharatiya Janata Party's (BJP) prime ministerial candidate Narendra Modi, and Azam Khan, a senior minister in the Samajwadi party government in the northern state of Uttar Pradesh.
Mr Shah, who is leading the BJP's poll campaign in Uttar Pradesh, allegedly asked people at a public meeting to take "revenge" for last year's religious riots in Muzaffarnagar town in which 43 people died.
Mr Shah has denied making the comments.
Meanwhile, Mr Khan has been reprimanded for saying that India's victory in the 1999 Kargil conflict over Pakistan was ensured by Muslim soldiers and not Hindus.
Pakistani-backed forces had infiltrated into the Kargil mountains in Indian-administered Kashmir leading to an armed conflict between the two countries.
The Hindu feels the ban sends a "strong message" to politicians who resort to hate speech during elections.
Before Mr Shah and Mr Khan's comments, a Congress politician was arrested for giving "hate speech" last month.
Imran Masood, the Congress party's candidate from Saharanpur in Uttar Pradesh, was sent to jail for 14 days on 29 March after he threatened to "chop off" Mr Modi "into pieces".
"For the past few weeks, the country has been subjected to venom and vitriol in the name of electioneering, as leaders of different parties have reduced canvassing for votes to distasteful rants against their adversaries," the paper says.
The Deccan Herald says that Mr Shah and Mr Khan's religious remarks are even more dangerous than Mr Masood's threat to Mr Modi.
"If that was a bad comment at a personal level, the comments of Amit Shah and Azam Khan are more serious because they openly appealed to sectarian sentiments and incited communities," the paper says.
The Asian Age says that the Election Commission needs support from political parties to stop hate speech.
"While EC's steps to curb the menace must receive the support of all parties, they themselves have to get together to evolve a common code of dont's. Without that this devious stroking of communal passions won't ever stop," the paper says.
'Controversial' book
Meanwhile, papers are also reporting the release of a controversial book written by Prime Minister Manmohan Singh's former media adviser.
Sanjaya Baru, in his book titled 'Accidental Prime Minister - The Making and Unmaking of Manmohan Singh', reportedly claims that some files of the prime minister's office (PMO) were seen by Congress party president Sonia Gandhi.
The PMO has dismissed the claim as "fiction".
However, most newspapers feel that the book does not surprise anyone.
The Times of India says that Mr Baru's book says "aloud what many others have been murmuring beneath their breath" but adds that the timing of the book amid the ongoing polls "will certainly raise eyebrows".
The Pioneer says the book exposes how "Mr Singh was bulldozed time and again by… Ms Gandhi and her coterie" and highlights "the charade that the prime minister has shared a trouble-free relationship with Ms Gandhi".
Football league
And finally, former cricketers Sachin Tendulkar and Sourav Ganguly have moved on to the world of football.
Both have bought a team each in the upcoming Indian Super League (ISL) football tournament.
"Tendulkar has teamed up with Hyderabad-based PVP Ventures Limited to buy the Kochi franchise whereas former India captain Ganguly has Spanish League leaders Atletico Madrid as one of the key partners for the Kolkata franchise," The Indian Express reports.
The ISL is due to be held from September to November this year.
BBC Monitoring reports and analyses news from TV, radio, web and print media around the world. For more reports from BBC Monitoring, click here. You can follow BBC Monitoring on Twitter and Facebook.