India's colourful election slogans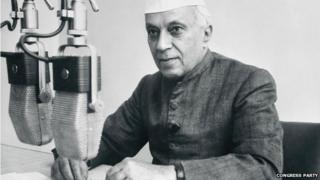 Can a creative one-liner win an election?
In the Indian context, the answer can be both positive and negative if one looks at the history of the country's politics.
Many parties have won elections riding on the success of their creative slogans, while others have lost when their catchphrases failed to impress the electorate.
Every election season, parties come up with witty and innovative combinations of words and the 2014 general election, dubbed as the world's biggest, is no different.
Creative slogans are advertised in newspapers almost daily and can also be heard on radio and television.
Slogans often help politicians communicate with their ideas to voters. Not many can forget "Yes We Can" - Barack Obama's slogan in the 2008 presidential election.
But how do slogans work in India's incredibly diverse political culture?
Here, they are often a test of any party's ability to gauge the nation's mood. A good slogan can bring together people usually separated by religion, region, caste and language, but a bad one can crush political ambitions.
This year, all the main parties are hoping that they have found a winning combination of words to strike a chord with the electorate.
The main opposition Bharatiya Janata Party (BJP) is betting on the popularity of its prime ministerial candidate Narendra Modi with its umbrella slogan "Abki Bar, Modi Sarkar" (This time, it's Modi's government).
The slogan has become hugely well-known, both with the party's admirers and opponents.
The BJP's rivals say Mr Modi has "hijacked" the party and its slogan suggests that no other leader is worth highlighting in its campaign.
But beyond the political profitability of the phrase, it is humour that is driving much of the conversation on social media platforms with users finding lines to rhyme with the slogan.
"Twinkle Twinkle Little Star, Abki bar Modi Sarkar," goes one humorous take.
For the ruling Congress, the key message is about unity and inclusive development.
"Har Hath Shakti, Har Hath Tarakki" (Power in every hand; Progress for everyone) is their slogan for the general election.
The party is using other catchphrases to take a dig at the BJP like "Kattar Soch Nahi, Yuva Josh" (It's not about extreme views, but about youth power).
The two parties' campaign strategies suggest that India's politics is increasingly becoming personality driven and moving closer to the US-style presidential system.
'Hail the Soldier, Hail the Farmer'
Indian politics has a rich history of slogans and they have provided the humour, interest and enthusiasm needed to engage pundits and voters alike. Some of the most memorable slogans include "Garabi Hatao" (Eradicate poverty), "India Shining" and "Jai Jawan, Jai Kisan" (Hail the Soldier, Hail the Farmer).
Former PM Indira Gandhi's "Garibi Hatao" campaign in 1971 resonated with the nation and secured a landslide victory for her Congress.
India's economy was in a bad shape and the message brought hope to the poor.
But her electoral triumph ended in catastrophe when, four years later, a court declared her win invalid.
A state of emergency was declared which saw the jailing of opposition leaders and severe restrictions on press freedom.
In response, several opposition parties came together to form the Janata Morcha (People's Front) which campaigned under slogans such as "Indira Hatao, Desh Bachao" (Remove Indira, Save the Nation) and "Sampoorna Kranti" (Total Revolution).
The group swept to victory in the 1977 election.
Indira's father and India's first prime minister, Jawaharlal Nehru, was more famous for his speeches than slogans.
However, he did coin the slogan "Hindi-Chini Bhai-Bhai" (Indians and Chinese are brothers) in the early 1950s. This backfired as relations between Delhi and Beijing deteriorated sharply as a result of border disputes, eventually leading to a full-blown war in 1962.
It was Nehru's successor and India's second PM, Lal Bahadur Shastri, who came up with the country's most popular slogan since independence in 1947.
India was locked in a war with Pakistan in 1965 and there was a severe food shortage. Shastri's slogan "Jai Jawan, Jai Kisan" (Hail the Soldier, Hail the Farmer) boosted the nation's confidence at a time of crisis and aided the Congress party's success in the polls.
Former PM Atal Bihari Vajpayee tweaked the slogan after the nuclear tests in 1998.
The new slogan "Jai Jawan, Jai Kisan, Jai Vigyan" (Hail the Soldier, Hail the Farmer, Hail Science) underlined the growing investment in science and technology at the time.
The BJP came to power in 1996 on the back of several famous slogans relating to Mr Vajpayee, whose corruption-free image made him an ideal face for the party.
"Sabko Dekha Bari Bari, Abki Bari Atal Bihari" (We have seen several others, now it's Atal Bihari's turn) was the catchphrase among BJP supporters in the run-up to the elections.
'India Shining'
But the most famous slogan which related directly to a political leader was created for Indira Gandhi.
Congress party member Dev Kant Baruah coined the slogan "Indira is India and India is Indira" in the mid-1970s. His slogan indicated the power that Indira Gandhi wielded at the time.
In the 2004 general election, national parties hired professional firms to devise slogans and run campaigns.
The BJP, which was seeking a re-election, chose its much-publicised "India Shining" campaign, while the Sonia Gandhi-led Congress decided on "Aam Aadmi Ko Kya Mila?" (What did the common man get?)
India's economy had been performing fairly well, but was far from shining and the BJP's campaign failed spectacularly - the voters elected the Congress party.
In recent years, some regional parties have also come up with winning slogans.
Trinamool Congress chief Mamata Banerjee ran a successful election campaign with "Maa, Maati, Manush" (Mother, motherland and people) in 2011 and came to power in the eastern state of West Bengal.
After decades of rule by Communists, people saw freshness in this campaign and gave Ms Banerjee a chance to reinvent West Bengal.
BBC Monitoring reports and analyses news from TV, radio, web and print media around the world. For more reports from BBC Monitoring, click here. You can follow BBC Monitoring on Twitter and Facebook.