IPL corruption claims: Court rejects IPL probe panel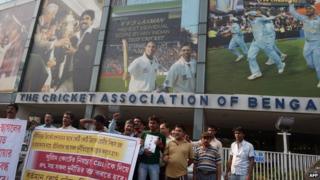 India's Supreme Court has rejected an investigative panel appointed by the country's cricket board to look into allegations of corruption in the Indian Premier League (IPL).
The panel was set up after the top court urged the board to probe spot-fixing claims against 13 players and officials.
The court has now asked a retired judge to continue the probe.
The IPL is the world's richest cricket tournament.
The seventh edition of the 20-over tournament, which features eight teams of international players, began last week and runs until 1 June.
Earlier this week, the Board of Control for Cricket in India (BCCI) appointed former law enforcement agency head RK Raghavan, former high court judge JN Patel and former Indian cricket captain Ravi Shastri to probe corruption in the IPL.
Conflict of interest
The court rejected the panel on Tuesday following questions of conflict of interest involving the panel members.
The court then asked former judge Mukul Mudgal, who previously headed a three-member panel to investigate illegal betting in the IPL, to continue the probe.
Mr Mudgal had submitted its 170-page report to the court in February in which he said specific allegations against some suspects needed to be probed further.
The top court recently ordered N Srinivasan to stand down as chief of the BCCI amid allegations that his son-in-law was involved with illegal betting.
Mr Srinivasan was elected head of cricket's world body, the International Cricket Council, in February. He is due to take up the role in July.
Former India captain and batting legend Sunil Gavaskar was installed as the interim head of the cricket board, and is responsible for overseeing the ongoing IPL tournament.
The last season of the IPL was dogged by allegations of spot-fixing and betting.
Spot-fixing involves players bowling wides and no-balls at certain times arranged beforehand with bookmakers.