India election: Modi submits nomination papers as Indians vote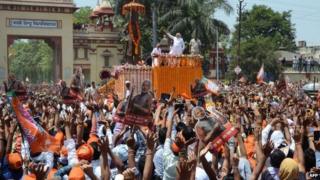 Narendra Modi, the man expected to be India's next leader, has submitted his election nomination papers as Indians voted in the sixth phase of their poll.
He arrived in the holy city of Varanasi as supporters from his Bharatiya Janata Party (BJP) thronged the streets.
The city will be the scene of an epic battle between Mr Modi and anti-corruption campaigner Arvind Kejriwal, who is challenging him there.
There are 117 seats up for grabs on Thursday, but Varanasi votes on 12 May.
The ruling Congress party is battling the opposition BJP to win the votes of the 814 million Indians eligible to vote.
About 2,000 candidates were hoping to win over 180 million of those votes as polling took place in West Bengal, Uttar Pradesh, Madhya Pradesh, Bihar and Indian-administered Kashmir on Thursday.
Star voters
Election Commission officials said the voter turnout was heavy in Tamil Nadu, West Bengal and Assam, but it was poor in Maharashtra and its capital, Mumbai.
The southern state of Tamil Nadu, where voting was held in all 39 seats on Thursday, is a key battleground to watch.
The main contest in the state is between two powerful regional parties - the ruling AIADMK and the main opposition DMK, the BBC's Sanjoy Majumder reports from the state capital, Chennai. The two main national parties are fringe players in the state and have traditionally formed alliances in order to ensure power.
India's financial capital, Mumbai, is seeing a keenly-contested battle between two alliances: the ruling Congress-Nationalist Congress Party alliance against a resurgent BJP-Shiv Sena party.
Mumbai usually doesn't see very high turnouts - it was just over 41% in the 2009 election - and reports said things weren't very different this time either.
The city is also home to Bollywood stars and a number of them voted including big names such as Amitabh Bachchan, Aamir Khan and Vidya Balan.
Voting in phases
The marathon vote is being staggered over five weeks for security and logistical reasons. The nine-phase vote began on 7 April and will conclude on 12 May. Votes will be counted on 16 May.
The main contest in the election is between the Congress, led by Rahul Gandhi, and the BJP, led by the charismatic and controversial Hindu nationalist leader Narendra Modi.
Mr Modi, who is ahead in all the pre-election opinion polls, is the leader of Gujarat state, which witnessed one of India's worst anti-Muslim riots in 2002.
Arvind Kejriwal, contesting against Mr Modi in Varanasi is at the helm of the anti-corruption Aam Aadmi (Common Man's) Party, which secured a spectacular result in local polls in Delhi last year and offers a challenge to the main parties.
Several smaller regional parties are also in the fray and if no single party wins a clear majority, they could play a crucial role in the formation of a government.
Any party or a coalition needs a minimum of 272 MPs to form a government.