Goldman Prize: Indian Ramesh Agrawal wins top environment award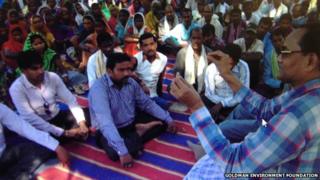 An Indian who helped villagers fight a large coal mine is among six environmental activists from around the world who have won the Goldman Prize.
Ramesh Agrawal organised villagers in the central state of Chhattisgarh and succeeded in shutting down one of the largest planned coal mines in the area.
The other winners of this year's award are from Peru, Russia, South Africa, Indonesia and the US.
The winners of the prestigious prize will each receive $175,000 (£103,925).
"With a small internet cafe as his headquarters, Ramesh Agrawal organised villagers to demand their right to information about industrial development projects and succeeded in shutting down one of the largest proposed coal mines in Chhattisgarh," the San Francisco-based Goldman Environmental Foundation said in a press release on Monday.
Mr Agrawal's work earned him powerful enemies and after the coal mine project was cancelled, gunmen broke into his shop and shot him in the leg, shattering his bones.
"Despite his limited mobility, Mr Agrawal is helping villagers to assert their rights as landowners and apply for mineral rights to the coal buried under their properties," the release adds.
The foundation also recognised Peru's Ruth Buendia for "helping to prevent two dams in the Peruvian Amazon", Russian zoologist Suren Gazaryan for "defending protected areas from Olympic development in Sochi" and American lawyer Helen Slottje for "helping to shut down fracking in New York State".
South Africa's Desmond D'Sa has been chosen for "closing a toxic dump site in Durban" and Indonesian biologist Rudi Putra has been awarded for "shutting illegal palm oil plantations in Sumatra", the foundation said.