Assam rebel attacks kill 32 villagers in India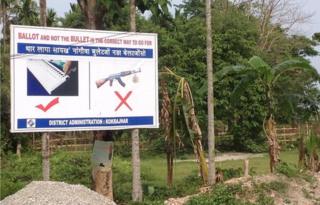 Separatist rebels have killed 32 people in the north-eastern Indian state of Assam, police say.
Other villagers were injured in two attacks in Kokrajhar and Baksa districts late on Thursday.
Police blame the attacks on the National Democratic Front of Bodoland (NDFB).
The NDFB wants an independent homeland for the ethnic group to be carved out of Assam. Thursday's attacks took place in areas populated by non-Bodo people.
LR Bishnoi, a senior police official in Kokrajhar, told the BBC's Amitabha Bhattasali that those killed belonged to the minority Muslim community.
"The first attack took place in a village in Baksa in western Assam where the rebels killed three people. The second incident happened in Kokrajhar where the rebels gunned down seven people," he said on Friday.
The police have since discovered more bodies in the remote villages, among them women and children who were reportedly shot as they slept, the BBC's Andrew North reports from Delhi.
Police and the army have launched an operation to track down the rebels, but there have been no arrests so far.
Extra security forces have been deployed and a curfew has been declared in the affected areas.
The incident comes in the middle of India's ongoing general election, and Muslim groups believe their community has come under attack because the rebels feel that it did not support Bodo candidates.
Rakibul Islam of All Bodoland Muslim Students Union said local Muslims had been threatened by Bodo groups "because they thought Muslims had voted for non-Bodo candidates" during elections in Assam on 24 April.
In Kokrajhar, the Bodo heartland, Muslim migrants are regularly attacked by Bodo separatist rebels and this periodically erupts into full-scale riots, says analyst Subir Bhaumik.
More than 100 migrants were killed in one such raid at Bansbari, a makeshift camp for displaced Muslims in 1993.
The Bodos now have an autonomous territorial council which one of their parties, the Bodoland People's Front (BPF), controls. But many feel migrants have taken over much of the land they traditionally occupied.