Indian media: Controversy over Modi's interview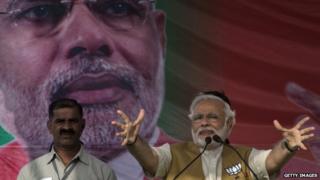 Media in India are discussing a political controversy over a TV interview given by the main opposition BJP's prime ministerial candidate Narendra Modi.
Media reports on Friday said Mr Modi's interview was edited by state broadcaster DD News to delete some comments about Congress president Sonia Gandhi's daughter, Priyanka.
The controversy started when a section of the media reported that Mr Modi, in the interview, had said that Priyanka Gandhi was "like his daughter" and he did not consider her as a political rival like her mother and brother Rahul Gandhi.
However, the BJP on Friday said Mr Modi never said that Priyanka Gandhi "was like his daughter". The party also released the full interview of Mr Modi "for the people and the media to see that he never made the controversial remark", reports The Indian Express.
"A daughter will do anything for her mother, for her brother. She should get an opportunity to do so as well. Who else will she do it for if not for her mother and brother? I will never take offence at whatever Priyanka says as a daughter. A daughter is after all a daughter," Mr Modi reportedly said in the full interview released by his party.
Priyanka Gandhi, however, criticised Mr Modi, saying she did not "appreciate" this comparison with her father Rajiv Gandhi.
"I am Rajiv Gandhi's daughter… My father died for this country more than 20 years ago. I love him more than I love anybody else in my life. And I don't appreciate this comparison at all," The Times of India quoted her as saying on Thursday.
DD News has denied deliberately editing Mr Modi's interview, reports The Hindu.
"There was no deliberate editing or omission of any portion of the interview. Wherever editing was done was for technical reasons and during post-production," the channel's director-general, SM Khan, said in a statement.
But some media outlets are asking what caused this confusion over the interview.
"The question now is as to where the reports about Mr Modi saying Priyanka was like his daughter came from," asks the CNN-IBN website.
Flower trade
Meanwhile, papers are speculating if the twin blasts in the southern city of Chennai on Thursday were meant to be a "message" for Mr Modi.
The blasts on a train at the main railway station in Chennai have "triggered speculation whether poll-bound Andhra Pradesh state, where Mr Modi addressed five rallies the same day, was the real target", says The Asian Age.
The bombs, which had timer devices, exploded in the train that was en route to Andhra Pradesh, it adds.
And finally, the flower trade is blooming this election season with high demand for roses and marigolds which are used to greet top leaders, reports the Hindustan Times.
While the Congress party's Rahul Gandhi was greeted with a "300kg rose petal shower" in his constituency Amethi, "500kg of saffron marigold" were used to welcome Mr Modi in Varanasi, it adds.
BBC Monitoring reports and analyses news from TV, radio, web and print media around the world. For more reports from BBC Monitoring, click here. You can follow BBC Monitoring on Twitter and Facebook.