India politician dies after attack by 'human torch'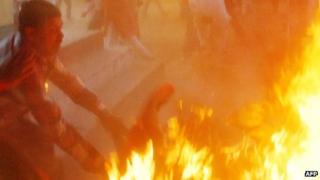 An Indian regional politician has died of burn injuries five days after he was targeted during a TV election debate by a man who had set himself on fire.
Kamruzzama Fauji, the local leader of the Bahujan Samaj Party in Uttar Pradesh state, was taking part in the recorded debate on Monday.
A member of the audience doused himself in petrol, set himself alight and then lunged at Mr Fauji.
Mr Fauji suffered 75% burns to his body, and died late on Friday.
The attacker died shortly after the incident.
It is not clear what the motive was behind the attack, which comes as India is holding its five-week-long general election.
Mr Fauji's brother Khalikurzama said it was "politically motivated" and called for a "proper probe".