Indian election: Narendra Modi holds rally in Congress bastion Amethi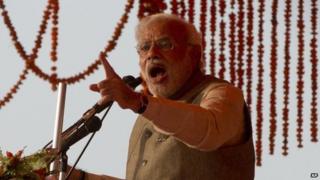 Narendra Modi, the PM candidate of India's main opposition BJP, has held a rally in Amethi, the seat of Congress vice-president Rahul Gandhi.
Rallies by opposition leaders are rare in Amethi, a seat held almost solely by the Gandhi dynasty since 1980.
Mr Modi attacked their record in the area as well as what he said was their condescension to the BJP candidate.
The campaign for the ongoing general election has seen acrimonious exchanges between Mr Modi and the Gandhi family.
Monday is the last day of campaigning in Amethi, where voting is due on Wednesday.
During the campaign the BJP has targeted in particular Mr Gandhi's sister Priyanka and her husband Robert Vadra, accusing Mr Vadra of corruption and illegal business dealings.
Thousands of BJP supporters, many from neighbouring districts, attended Mr Modi's rally, BBC Hindi's Nitin Srivastava reported from Amethi.
During the rally, Mr Modi referred to a recent incident in which Ms Gandhi reportedly dismissed the BJP's candidate Smriti Irani by asking who she was.
"In a democracy, the elite have no right to ask these questions," Mr Modi said.
He also accused the Gandhis of not having done enough development work in the constituency. "I have to build India, but before all else I want to build Amethi," he said.
Priyanka Gandhi has been campaigning in the area and has countered with fierce criticisms of Mr Modi and the BJP.
Battleground state
Although the BJP is expected to do well nationally, Mr Gandhi is defending a massive majority in Amethi. He won over 70% of the vote there in 2009 - the BJP candidate came third with less than 10%.
Mr Gandhi's mother Sonia had previously represented the constituency, as did his father Rajiv, who was prime minister from 1984 to 1989.
The candidate the BJP is fielding in this election, Smriti Irani, was previously the leading actress in one of India's most popular TV soaps, Kyunki Saas Bhi Kabhi Bahu Thi (Because a mother-in-law was once a daughter-in-law, too).
India's new anti-corruption party - the Aam Aadmi (Common Man) Party (AAP) - has fielded poet Kumar Vishwas in Amethi.
Uttar Pradesh, the state where Amethi is located, returns more MPs than any other and is often described as India's battleground state.
The marathon general election, which began on 7 April, will conclude on 12 May. Votes will be counted on 16 May.