Why India's migrants are unable to vote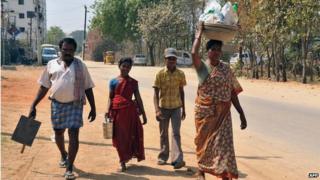 A record number of people have taken part in India's general election, now in its home stretch with just one round of voting left before results are announced on 16 May.
Part of the reason for the increase in turnout in the five-week-long polls, which began on 7 April, can be attributed to the Election Commission for successfully encouraging more women and low-caste Indians to vote.
But many remain excluded.
Because Indians must cast their ballots in person at an assigned polling station near their registered address, voting is difficult for those who migrate from one state to another.
India has around 100 million temporary internal migrants, according to one study, while Ravi Srivastava, an economist at Delhi's Jawaharlal Nehru University, says as many as three out of every 10 Indians have moved away from their homes usually in search of a better job.
That's why many have called for absentee voting to become available to all of India's 814 million-strong electorate.
At present only members of the armed forces, those on election duty, some displaced communities, senior government ministers and Indian diplomats outside the country can vote by post or through a proxy.
As a result, most domestic migrant workers do not exercise their right to vote.
'Too expensive to return'
Close to 60% questioned in a 2011 study said they failed to cast their ballots in at least one election - local, state or national - because they were away from home earning a living and it was too expensive to return.
The study - carried out by five Indian NGOs - found that migrant workers were less likely to vote in national polls compared to local ballots. It found more migrants returned home to vote in village council elections because often a relative or community member would be contesting and candidates were more likely to cover their travel expenses.
Of course, voters can re-register at a new location, but to do so, they must have an official proof of address, like an electricity bill. Many migrants are poor and even homeless and so are not able to provide this, having moved to India's cities to work as rickshaw pullers and construction workers.
Asaraf Ali first arrived in Delhi from Bihar, one of India's poorest states, 14 years ago.
Working as a cycle rickshaw puller on the narrow, clogged lanes of the Indian capital's old quarters, he earns around 300 rupees (£3; $5) a day, most of which he sends back to his family who remain in Bihar.
People in his constituency in Bihar went to cast their ballots on 24 April. Mr Ali, who returns to his village every three months, wasn't among them. "It made more sense for me to stay here," he said.
A similar problem applies to the over 10 million Indian passport holders living, working and studying in all corners of the globe.
This general election is the first in which non-resident Indians (NRIs) have been allowed to vote, but only 12,000 NRIs have registered, the majority from the southern state of Kerala working in the Middle East.
The number is small largely because voters must be physically present in India to cast their ballot.
But the figure could jump drastically by the time the country holds its next national polls.
Last month, the Supreme Court asked the Election Commission to examine the possibility of allowing non-resident citizens to vote at Indian missions abroad. Letting them vote online in future polls is also being considered.
However, former chief election commissioner SY Quraishi says setting up polling booths outside the country would not be easy.
"We don't have a presidential system in India, one where there's the same candidates for all the country. Here we have over 500 constituencies, all with different candidates competing. Logistically, sending all these different [electronic voting] machines with their names on it to all the corners of the world, it's not feasible," he said.
Time will tell if those currently excluded by circumstance will in the future be able to exercise their right to vote.
For now, however, the majority of India's migrants, both within and outside the country, will remain mere spectators in the electoral process.
Atish Patel is a Delhi-based independent journalist