India election: Varanasi protest over Narendra Modi rally denial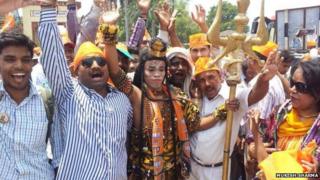 India's main opposition BJP is holding a protest in Varanasi city after its leader Narendra Modi was denied permission to hold a rally there.
Party workers, sporting orange caps with "Modi for PM" slogans inscribed on them, have gathered outside the Benaras Hindu University campus.
The Election Commission on Wednesday denied permission for the rally citing security concerns.
Mr Modi is contesting the Varanasi seat in the general election.
India's election, with 814 million eligible voters, is the world's biggest exercise in democracy and the governing Congress party is battling the Bharatiya Janata Party (BJP) for power. Mr Modi is ahead in all the opinion polls.
In early morning tweets on Thursday, Mr Modi accused the election authorities of bias.
"It is unfortunate that EC [Election Commission] is not concerned about the institution's neutrality and that is why our Karyakartas [workers] have to embark on a Satyagraha [protest]," Mr Modi tweeted.
Senior BJP leader Arun Jaitley wrote in his blog: "I cannot conceal my disappointment with the Election Commission. Men in constitutional offices need to be bolder. Timid men can dwarf high offices."
The Election Commission has rejected the BJP's accusation, saying it does not accept the "insinuation" of inaction or bias on the issue.
It said Mr Modi had been given permission for two other events in Varanasi but security issues raised by the state government could not be overlooked.
Varanasi is a key election battleground where Mr Modi is being challenged by Arvind Kejriwal, the head of India's new anti-corruption Aam Aadmi [Common Man] Party. The Congress party candidate there is local politician Ajay Rai.
Voting is due in Varanasi on 12 May - the ninth and final phase of the marathon election which began on 7 April. Counting of the votes is due on 16 May.
Mr Modi is standing for election in two seats - in the Hindu holy city of Varanasi as well as Vadodara in Gujarat. If he wins both seats, he will have to relinquish one.