India election: Parties wrap up marathon campaign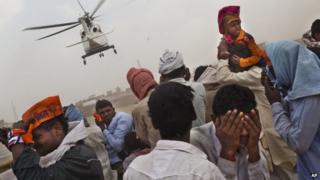 Campaigning has ended in India's marathon general election, two days before the final votes are cast.
In the closing phase of the contest, several major parties held rallies in Uttar Pradesh, a battleground northern state which is among the last to vote.
Rahul Gandhi, of the governing Congress party, campaigned on Saturday in Varanasi from an open-topped vehicle.
Narendra Modi, leader of the Bharatiya Janata Party (BJP), gave a speech in Robertsganj, near Varanasi.
The poll, which began in April, is the world's largest exercise in democracy.
Voting has been held in nine stages across the country, to enable the participation of an electorate of 814 million. Vote counting begins on 16 May.
The opposition BJP is widely expected to emerge as the single largest group in parliament, with Mr Modi tipped to become the next prime minister.
He has campaigned in favour of efficiency and economic progress, but his opponents have warned that his Hindu nationalism is dangerous for a secular country with large religious minorities.
Mr Modi has led his campaign from Varanasi, a Hindu holy city on the banks of the Ganges.
In campaigning on Saturday, Mr Gandhi warned that victory for the BJP would end up dividing the country.
On Friday, Arvind Kejriwal, the leader of India's new anti-corruption Aam Aadmi (Common Man) party, also led a rally through Varanasi.
Mr Modi drove through the temple city on Thursday, accompanied by his supporters, after the authorities denied him permission to hold a rally there.