Are India's young leaders making a mark?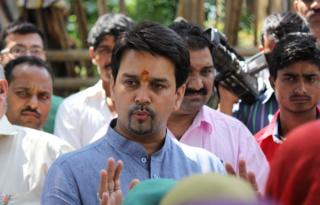 With his thick head of black hair and faintly creased forehead, Anurag Thakur is not like the typical politician in India.
The incumbent Bharatiya Janata Party (BJP) candidate for Hamirpur, in the northern state of Himachal Pradesh, is only 39 years old, whereas the average Indian lawmaker is 65 - a sharp contrast to the country's youthful population where the median age is 25.
Over the next 10 years, India is poised to witness a massive generational change that will churn more than 100 million people into the workforce and see senior politicians make way for new blood.
Political watchers peg Mr Thakur - who heads the youth wing of the BJP, polling favourite to knock the ruling Indian National Congress Party from power - as one with potential to come out of the churn on top.
Mr Thakur's political entrance in 2008 was paved by his father, former Himachal Pradesh chief minister Prem Kumar Dhumal - known locally as "sadak wala mukhya mantri", the politician who made the roads.
Mr Thakur says what's needed now is to get trains across Himachal - which is mostly accessible by crumbling roads.
He talks of modernising farming, which sustains 90% of families, and building industry to employ educated youth who have been leaving the state in droves. "There's a lot to do as far as even the basic amenities are concerned," he said.
President of the state cricket association, Mr Thakur is best known for building an international cricket stadium in Dharamshala, home to the Dalai Lama of Tibet. His sporting ties have caused controversy with the opposition accusing him of corruption involving the stadium, which he denies.
Congress leaders have been talking of renewal after the election results come in on 16 May, and recently appointed a handful of young leaders to posts in the public eye.
Sachin Pilot, the 36-year-old minister for corporate affairs in the outgoing government, scored the job as Congress president for the northern state of Rajasthan, where he is a candidate for Ajmer.
"Sometimes you see people hang onto their positions, they don't want to leave space because somebody else will come in and boot them out - we must get out of that mindset," said Mr Pilot, who became India's youngest parliamentarian when he was elected at 26, following after his late father, Congress leader Rajesh Pilot.
'Improving outcomes'
Mr Pilot says young politicians understand the "mood" of India's youth. "Young Indians are looking for a better lifestyle that's much more fulfilling and a job that's more satisfying, so my generation of politicians will be judged more on the economic opportunity we can give," he said.
Jyotiraditya Scindia, the 44-year-old minister for power who is contesting from Guna in the central state of Madhya Pradesh, was appointed as Congress spokesperson in January.
One of India's richest ministers, Mr Scindia is descended from the Scindia royal family that ruled Gwalior as a princely state until Independence in 1947.
The former investment banker is credited with making his departments more efficient and talks of developing India by improving "outcomes".
"Just as companies post their audited results and are accountable to investors, we in our ministries need to be accountable to the people of India," he said.
He's less enthusiastic about using social media, letting his team manage Facebook and Twitter. "We tend to spend too much time on them and I think it's much more important to be able to deliver," he said.
Mr Scindia's 40-year-old cousin Dushyant Singh, from the rival BJP party, is also seen as one to watch.
Mr Singh is the incumbent candidate for Jhalawar-Baran in Rajasthan - a state his mother Vasundhara Raje took over as chief minister after steering the BJP to a record majority in last year's state election.
Young politicians have new ideas but need to heed the advice of seniors, he said. "Blessings of seniors have to be taken… They've seen much more of life, they've seen much more of politics."
The generational transition will eventually see traditional values like caste and religion lose grip on Indian politics, according to Satish Misra, senior fellow at Delhi think-tank the Observer Research Foundation.
"There is a fierce battle going on at the ground between the Western value system and traditional value system… Young politicians are bringing fresh ideas and attitudes but meaningful change [will take decades]," the former political journalist said.
Campaigning for faster change, India's new Aam Aadmi Party (AAP) has levelled allegations of corruption across the board saying the entire political structure needs changing.
Sitting outside a shoe store donated to AAP in Hamirpur, 21-year-old volunteer Gautam Singh says: "All this so called young blood, they're a part of the same structure, the way they go about doing politics is the same.
"Because of us, people are now asking these questions: You might be a youth leader, but what have you done for us? What will you do?"
Alys Francis is a Delhi-based independent journalist