Indian politician ND Tiwari marries son's mother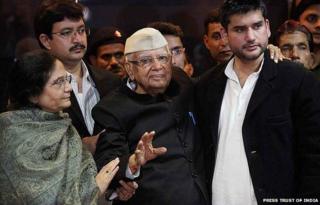 Senior Indian politician ND Tiwari has married a woman whose son he accepted as his own after a lengthy court battle.
Mr Tiwari married Ujjwala Sharma, 65, at a small ceremony in Lucknow city.
In 2012, DNA tests proved that 33-year-old Rohit Shekhar was the son of Mr Tiwari, a prominent member of the ruling Congress party.
Mr Tiwari had earlier denied claims that he had a relationship with Mr Shekhar's mother.
But in March, he publicly accepted Mr Shekhar as his son.
Media reports said Ms Sharma recently protested outside Mr Tiwari's house in Lucknow demanding that she be allowed to live with him.
"I'm very happy, Mr Tiwari suggested the marriage, it was a low-profile event," Ms Sharma was quoted as saying by the NDTV news channel after the wedding.
Rohit Shekhar had gone to the court in 2008, claiming he was born out of the relationship between Mr Tiwari and his mother.
The politician had dismissed the claim as an attempt to malign his reputation.
Mr Tiwari has been a federal minister in past governments and also the chief minister of Uttar Pradesh, India's most populous state.
In 2009, he resigned as the governor of the southern state of Andhra Pradesh after video footage surfaced allegedly showing him in bed with three women.
His office denied the allegation, saying that the video had been doctored.
Mr Tiwari was married but his wife died in 1993. The couple had no children together.