Why India's Narendra Modi faces daunting task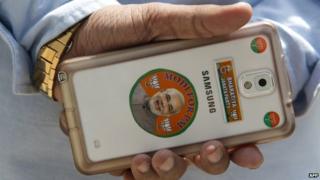 India, the world's largest democracy has swung to the right, and decisively so.
What was predicted as a surge of saffron - the colour favoured by the Bharatiya Janata Party (BJP) led by Narendra Modi - has turned out to be a veritable tsunami in favour of the Hindu nationalist party and the National Democratic Alliance (NDA) coalition it leads.
India's incoming prime minister, who has been chief minister of the industrially-prosperous state of Gujarat since 2001, has raised aspirations which will be rather tough to fulfil.
His biggest challenges will be to revive the economy, curb food inflation and create jobs for the country's youth.
Mr Modi will also have to convince India's biggest minority community, the Muslims - one out of seven people in the country believe in Islam - that the party he leads will not pursue an overtly majoritarian political and social ideology.
Large sections of Muslims in India have been apprehensive of Mr Modi since the 2002 communal riots in Gujarat where more than 1,000, mostly Muslims, were killed by Hindu mobs.
Daunting task
What has apparently worked for Mr Modi is his projection of the so-called Gujarat model of development with its emphasis on setting up industries.
Whereas Gujarat has not out-performed other Indian states in terms of healthcare, education and empowerment of women, it has a historical tradition of promoting industry and commerce.
A record turnout of voters (66%) has evidently helped Mr Modi's party considerably.
It appears that young people and those who live in small towns have voted for the BJP in large numbers.
Of the 814 million Indians who were eligible to vote, over 100 million were first-time voters, having turned 18 on or before 1 January.
The task of living up to the aspirations of the youth, as well as the upwardly-mobile middle classes who account for roughly a quarter of the 1.2 billion Indians, will undoubtedly prove to be a daunting task for the incoming government that Mr Modi will head.
The last six years has seen unprecedented food inflation that has hurt the poor and widened inequalities in an already unequal society.
The Indian economy grew by more than 9% for some of the past decade, but that rate slowed to below 5% in the last two years.
Despite claims that economic growth has been "inclusive", the government's own data has indicated that new jobs have been created at an average annual rate of only 2.2% since 2004.
The victory of Mr Modi and the BJP has been welcomed by the corporate sector which openly rooted for him and funded his election campaign handsomely.
Stock market indices zoomed to new highs in anticipation of the electoral outcome. The external value of the Indian currency has strengthened.
But reviving the economy will not happen easily or expeditiously: industrial production has declined in recent months and food inflation remains close to double digits.
Mr Modi has his work cut out - he has raised expectations to incredibly high levels. Living up to these will not be easy.
The writer is an independent journalist and analyst