India elections: Five questions for new BJP government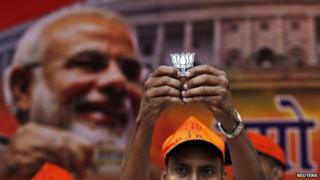 The Hindu nationalist Bharatiya Janata Party (BJP) is celebrating what is set to be a landslide win in India's election. Here are five critical questions for the new government.
Can it turn the economy around?
India is currently going through its worst economic crisis for two decades, with high inflation a particular problem.
The BJP's leader Narendra Modi has risen to power on promises of fiscal discipline and banking reforms among other policy plans.
But the government will need to provide a budget by June or July that shows the country can realistically contain its deficit.
Mr Modi, who has been chief minister of the prosperous state of Gujarat since 2001, must also deliver on pledges to build the manufacturing hubs and industrial projects that are key to creating faster economic growth for the whole country.
What does the result mean for Muslims and minorities?
Many Muslims in India have been apprehensive of Mr Modi since the 2002 communal riots in Gujarat where more than 1,000, mostly Muslims, were killed by Hindu mobs. He was accused of doing little to stop the violence - allegations he has consistently denied.
Mr Modi's status as an international pariah - cut off by the US and UK after the 2002 riots - came to an end in the last two years.
He must now convince India's Muslims - the country's biggest minority community - and others that his Hindu nationalist party will not pursue an overtly majoritarian political and social ideology.
He has reassured Muslims that they will be protected under his leadership, but some Hindu nationalist leaders reportedly made anti-Muslim speeches while campaigning for the election.
How will it cater for India's young people?
India is set to witness a massive generational change over the next 10 years that will add more than 100 million people to the workforce.
Of the 814 million Indians who were eligible to cast a ballot in the election, more than 100 million were first-time voters. It appears they voted for the BJP in large numbers.
But Mr Modi and his party now face the challenge of living up to the aspirations of young Indians, many of whom are looking for a better lifestyle and greater employment opportunities.
The government's ability to do that depends on its success at boosting growth and creating jobs.
What does it mean for India's neighbours?
Recent Indian governments have been accused of keeling over under pressure from the likes of China and Pakistan.
Mr Modi's reputation as a no-nonsense leader standing for muscular nationalism has led to suggestions that India would be more assertive diplomatically under his rule.
In its election manifesto, the BJP says it believes political stability, progress and peace are "essential for South Asia's growth and development".
But the party's leader has also hinted at a tough stance on talks with Pakistan, saying "the sound of dialogue is drowned by the noise of bombs and guns".
How can the BJP be a cohesive force?
The BJP's resounding election win was a huge defeat for the governing Congress party, and leaves an opposition that is weak and divided.
Rajnath Singh, the BJP's current president, said: "All caste, creed, race, we have transcended that and the BJP has become victorious." The party has also succeeded in picking up both urban and rural votes.
But caste and identity politics remain in India, with all parties carefully selecting their candidates accordingly.
The BJP's ability to unify the country and rule over an opposition that has lost its voice will be a key test of its government.