India's Congress party rejects Gandhi resignations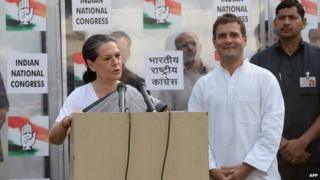 India's Congress party has rejected an offer by leaders Sonia and Rahul Gandhi to resign after its disastrous election showing, a top party official has said.
The offer was made at a post election meeting in the capital, Delhi.
The party finished with just 44 of the 543 seats and under 20% of the vote in what was its worst ever performance.
The Hindu nationalist Bharatiya Janata Party (BJP) won a landslide victory with 282 seats and is set to form a government.
'Rejected unanimously'
Congress party chief Sonia Gandhi and her son Rahul, the party's campaign leader, had accepted responsibility for the defeat.
Congress drew a blank in 12 states. Its attempts to foster democracy within the party by picking candidates in US-style primaries failed to deliver electoral dividends.
Congress MP Amarinder Singh said after the Delhi meeting on Monday: "They both offered to resign but the party rejected it unanimously."
The Congress Working Committee (CWC) passed a resolution "expressing full faith in the leadership of Sonia Gandhi and Rahul Gandhi", the Press Trust of India reported.
Before the meeting, party general secretary Shakeel Ahmad told Reuters: "Even if they submit their resignations, each and every member of the CWC will reject their resignations outright - including me."
One top aide of Sonia Gandhi said "everybody" in the party and government was responsible for the defeat.
"How can you blame any individual for this result? It is the collective responsibility of both the party and the government. All, including myself, are responsible for the party's loss," Ahmed Patel told the Indian Express newspaper.
Senior Congress leader Ashwani Kumar has called for "transformative changes" in the party which would allow "honest dissent".
Party MP and former minister Kamal Nath attributed the debacle to the party's "disconnect with ground realities".
Analysts like Milan Vaishnav, of the Carnegie Endowment for International Peace, say that though Congress is facing one of the toughest challenges in its history, it is premature to write the party's obituary.