Narendra Modi's immediate challenges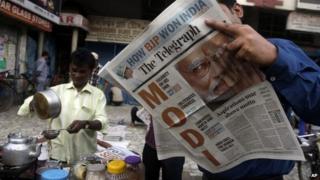 As the BJP's Narendra Modi prepares to take oath as India's new PM, BBC Monitoring's Vikas Pandey looks at what the editorial writers and commentators are saying about the leader.
Can Mr Modi turn around a faltering economy?
That's an important question and one that many are asking after his massive win in the recently-concluded general election.
Most analysts appear united in their view that fixing the economy will be his top priority in the first few months of his stint.
The outgoing government presided over a continuous slowdown in the economy and failed to check high inflation.
Mr Modi made "economic recovery" one of the main talking points of his campaign and many believe the time has come for him to deliver.
"The world will rediscover India if Narendra Modi can address the problems of slow growth and high inflation he inherits from the departing government," economic analyst Ruchir Sharma writes in this Economic Times column.
His immediate challenge would be to take a call on the Congress' populist programmes like the rural job guarantee scheme and the right to food. These schemes have provided jobs and food to millions, but have proven to be expensive.
On foreign policy, his ideas are not very well known.
"There is a better sense of Mr Modi's priorities and preferences when it comes to economic policy, but not as much is known about his foreign policy preferences," writes Tanvi Madan of Brookings Institution.
His biggest challenge lies in managing relations with Pakistan. His predecessor Manmohan Singh was a strong believer in peace talks.
Mr Modi occasionally showed "hawkish attitude" towards Pakistan during his campaign, but he may have to relent in favour of the peace process as prime minister.
It's no secret that he admires both China and Japan's economic models.
It will be interesting to see how he balances relations between the two nations who have been at loggerheads over territorial disputes in the East China Sea.
'Your time starts now'
The country has given Mr Modi a decisive victory after listening to his promises on fixing the economy, job creation, infrastructure development and good governance.
The Hindustan Times says the mandate suggests that "people really wanted to give him a free hand to pull India out of a morass it is in".
If commentaries in the media can be read as early signs, Mr Modi would be under intense spotlight mainly because of these promises.
The headline of a front-page piece written by the The Indian Express editor, Shekhar Gupta, says: "Your time starts now" in an apparent message to the BJP leader about his poll promises.
Mr Gupta reminds Mr Modi that "aspirational voters are also impatient, unforgiving, uncluttered and more transactional".
Writing in the same paper, Pratap Bhanu Mehta says "there is little doubt that India's future depends on what Mr Modi decides to do with his mandate".
But what about his past?
Mr Modi is generally credited with turning the state of Gujarat into an economic powerhouse but his critics accuse him of doing little to stop the 2002 anti-Muslim riots in which more than 1,000 people, mostly Muslims, were killed.
He has always denied these allegations. But he's been reluctant when asked about the riots in his interviews during the campaign.
He has lived under intense media scrutiny for the past 12 years and there are no signs that critics will stop asking him tough questions.
Analyst Ashutosh Varshney believes that Mr Modi will have to distance himself from the Rashtriya Swayamsewak Sangh (RSS), the Hindu nationalist organisation from which the BJP draws its ideological roots, if he wants to fulfil his poll promises.
"But if Mr Modi is unable to change the RSS, considerable difficulty lies ahead.
"The narratives of development and anti-Muslim Hindu nationalism will become embattled twins, coexisting not peacefully but in great tension, one threatening to consume the other, creating potentially serious problems of governance," he writes.
Can Mr Modi win the trust of India's minority community? That is a million-dollar question.
BBC Monitoring reports and analyses news from TV, radio, web and print media around the world. For more reports from BBC Monitoring, click here. You can follow BBC Monitoring on Twitter and Facebook.