India sets date to swear in Narendra Modi as new PM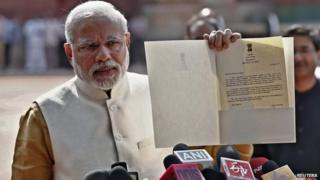 Narendra Modi will take the oath as India's new prime minister on 26 May, his BJP party has announced.
On Tuesday, he met President Pranab Mukherjee and formally claimed his right to form the government after his party's landslide win in the election.
Earlier, BJP MPs elected Mr Modi the leader of the parliamentary party.
In a very emotional speech to them, Mr Modi fought back tears and promised to lead a government dedicated to the poor and to young people.
On arrival at the parliament house to attend the meeting with the newly-elected BJP MPs and their allies, Mr Modi bowed and kissed the steps of the building.
His name was proposed by senior BJP leader LK Advani to lead the party and seconded by several senior leaders, including Murli Manohar Joshi, Sushma Swaraj and Arun Jaitley.
Mr Modi broke down while referring to his former mentor Mr Advani and promised to serve the BJP and India as his "mother".
In his speech to the party MPs, Mr Modi said the "common man has got renewed self-confidence and faith in democracy" after his party's victory last week.
"For rural areas, farmers, dalits [formerly Untouchables], the weak and the pained, this government is for them. To meet their aspirations and hopes, this is our responsibility because our weakest and poorest have sent us here," he added.
Decisive triumph
After his meeting with the president, Mr Modi showed reporters the letter he had received from Mr Mukherjee inviting him to form the government and said the oath taking ceremony will take place at 18:00 IST (12:30 GMT) on Monday.
A group of senior ministers are also expected to be sworn in at the ceremony which will be held at the presidential palace.
Mr Modi has been holding a series of meetings to finalise his cabinet.
Given the margin of victory, the BJP will be able to govern without coalition partners - 272 MPs are required for an absolute majority.
Narendra Modi secured the most decisive election victory in India in three decades, campaigning on promises to revive the economy.
The Congress party finished with just 44 of the 543 seats and under 20% of the vote in what was its worst ever performance.