Arvind Kejriwal: India campaigner's jail term extended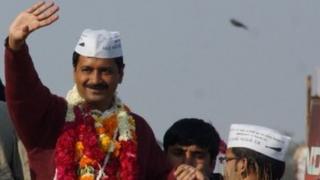 A court in India has extended the jail term of anti-corruption campaigner Arvind Kejriwal by a fortnight over his continued refusal to pay a bail bond.
Mr Kejriwal, the chief of the Aam Aadmi Party (AAP), is being sued by BJP leader Nitin Gadkari for calling him "corrupt".
Mr Kejriwal says he will not pay the bond as the case is "political".
He contested - and lost - from Varanasi in the recent general election against the BJP's PM-elect Narendra Modi.
His lawyers said they would appeal in the Delhi High Court against Friday's order.
He was arrested on Wednesday after he refused to pay 10,000 rupees ($170; £100) for his bail.
Mr Kejriwal instead offered an undertaking that he would appear in court at every hearing and said he would not flee from justice.
Mr Gadkari is among a number of high-profile politicians and industrialists who have been accused of corruption by Mr Kejriwal in the past two years.
Mr Kejriwal led his party to a stunning performance in the Delhi state assembly elections in December, winning 28 of its 70 seats, and formed a government with support from the Congress party.
But he quit after 49 days in power, after his government failed to push through an important piece of anti-corruption legislation.
Correspondents say quitting the government has alienated his mainly middle-class supporters and that is the main reason for his party's poor showing in the general election in which the AAP won only four seats.