India gang rapes: Arrests over hanged girls in Uttar Pradesh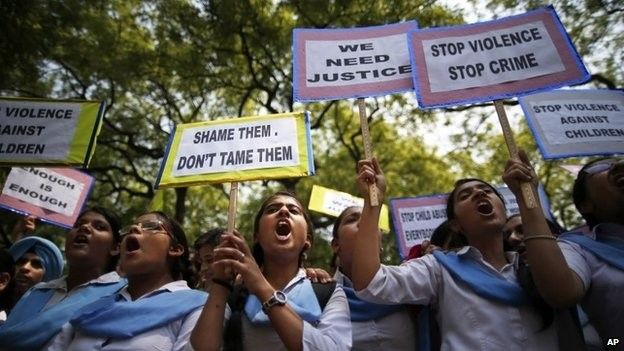 At least three men, including one police officer, have been arrested after two teenage girls were gang raped and hanged from a tree in India.
Authorities in the northern state of Uttar Pradesh said they were looking for one more suspect and one constable.
The victims' family earlier complained that police had refused to help find the missing girls, aged 14 and 16.
Violence and discrimination against women in India remains deeply entrenched.
But scrutiny of sexual violence has grown since the 2012 gang rape and murder of a student on a Delhi bus.
The government tightened laws on sexual violence in India last year after widespread protests in the wake of that attack.
Police said two men had been arrested for the gang rape and murder of the two girls, who were cousins from a low caste.
A constable was also detained for conspiring with the suspects and for dereliction of duty, authorities added.
Earlier on Thursday, officials had confirmed that three policemen had been removed from duty for not registering cases when the girls were reported missing on Tuesday night.
The bodies of the teenagers were found in Katra Shahadatganj village in Badaun district on Wednesday morning.
A post-mortem examination confirmed rape and death due to hanging, police said.
Hundreds of villagers held a silent demonstration at the scene of the crime in protest at the police's perceived inaction.
Earlier this year, a 20-year-old tribal woman was gang raped in eastern West Bengal state - allegedly on the orders of village elders who objected to her relationship with a man.