Indian media: Anger over gang rape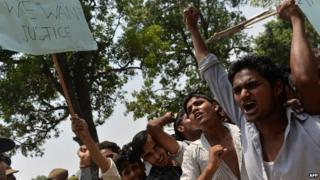 Media in India are criticising Uttar Pradesh Chief Minister Akhilesh Yadav for "failing to stop" cases of sexual assault against women in the state.
At least five new cases have been reported since last week's rape and hanging of two teenage cousins in Badaun district of the northern state.
The girls, thought to have been 14 and 15, went missing on 27 May. They had apparently gone out to relieve themselves as they had no toilet at home.
Their bodies were discovered the following day. A post-mortem examination confirmed multiple sexual assaults and death due to hanging.
The Hindustan Times says Mr Yadav's response to the incident shows "political apathy at its very worst".
He is facing criticism for his earlier remarks mocking female journalists who asked about the rising number of rape cases at a news briefing.
"You are safe, why are you bothered?" the chief minister had said.
"Several appalling incidents of rape have been reported from different parts of Uttar Pradesh over the last week and yet those holding the reins of the government seem to be unperturbed by the deteriorating law and order situation," the Hindustan Times adds.
Echoing similar sentiments, The Times of India says that "Badaun gang rape and murder is a wake-up call for Akhilesh".
"Just two years ago, when the young chief minister rode to power, raising high expectations with his schemes like free laptop for girls, none thought it would meet such abysmal administrative failure, showcasing the brazenness of Badaun," says The Tribune.
The Hindu says the incident is "shocking even by the abysmal standards of law and order obtaining under Chief Minister Akhilesh Yadav".
'Forget bitterness'
Meanwhile, newspapers continue to comment on India's newest and 29th state, Telangana.
The new state has been carved out from the southern state of Andhra Pradesh after years of bitterness between pro and anti-Telangana activists.
"Forget the bitterness, look at the opportunities thrown up by Telangana's creation," says The Times of India.
The Pioneer also said that the government of Telangana "will face many of the usual challenges that are there in raising a new-born baby".
And finally, the sale of author Megha Kumar's book on "communalism and sexual violence" has been "set aside" in anticipation of protests.
Publisher Orient Blackswan said the book would not be released until a "comprehensive assessment has been made and advice obtained", The Hindu reports.
Ms Kumar's book, titled "Communalism and Sexual Violence: Ahmadabad since 1969", includes case studies on sexual violence against women in riots, reports say.
The city of Ahmadabad, in western Gujarat state, reportedly witnessed cases of sexual violence in the 2002 anti-Muslim riots.
The publishers said they had received a protest letter from activist Dina Nath Batra on another book about India's political history.
Reports say the letter prompted them to undertake "a pre-release assessment of books that might attract similar reaction".
Earlier, a legal case filed by Mr Batra had forced Penguin India to withdraw author Wendy Doniger's The Hindus.
BBC Monitoring reports and analyses news from TV, radio, web and print media around the world. For more reports from BBC Monitoring, click here. You can follow BBC Monitoring on Twitter and Facebook.