India's parliament adjourned after tributes to Gopinath Munde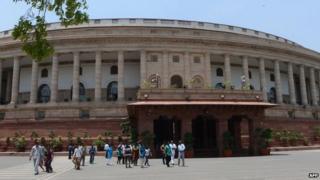 The first day of India's new parliament has begun with a tribute to Rural Development Minister Gopinath Munde who died in a car crash on Tuesday.
Congress party leader Kamal Nath, who was sworn in as interim Speaker of the lower house minutes before the session began, was in the chair.
The house adjourned for the day after Mr Nath paid tribute to Mr Munde.
Ahead of the session, Prime Minister Narendra Modi vowed to deliver after his landslide election win last month.
"I want to assure you that in this temple of democracy, all efforts will be made to fulfil the hopes and aspirations of people," Mr Modi told reporters before entering the parliament on Wednesday morning.
Mr Modi's Bharatiya Janata Party (BJP) dominates the house with an outright majority.
The prime minister, who won the election on the promise of good governance and development, has asked his ministers to prepare their agendas for the first 100 days with focus on governance, efficient delivery and implementation of programmes.
When the Lok Sabha (the lower house) meets on Thursday, all the newly elected MPs will be sworn in, officials say.
The house will elect a new Speaker on 6 June and the president will address a joint session on 9 June.
The brief session is to conclude on 11 June and the chamber will reconvene in July for the government to present the budget.