India troops fight militants who killed woman for resisting molesters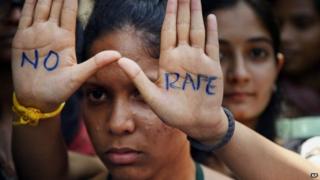 Paramilitary forces in north-east India are battling militants who shot dead a woman for resisting their attempts to assault her, police say.
There has been fighting in Meghalaya state since this morning, police official GHP Raju told BBC Hindi.
Five members of the GNLA militant group locked the woman's husband and children inside their house on Tuesday evening.
They then dragged the woman out and shot her in the head when she fought their attempt to sexually assault her.
Thursday's fighting has been reported from the William Nagar area in East Garo Hills district, an area 15km (nine miles) from the woman's home where she was attacked, Mr Raju said.
The attack took place in the South Garo Hills district, close to the Bangladesh border, and the woman, a 35-year-old mother of four, died on the spot.
Mr Raju said the militants belonged to the Garo National Liberation Army (GNLA) which is fighting for a separate state for the Garo tribe in the area.
Frequent brutal attacks on women in recent years in India have led to outrage in the country and globally.
After a 23-year-old student was gang raped and killed on a bus in the capital, Delhi, in December 2012, India brought in tougher new laws, introducing the death penalty for particularly brutal assaults or repeat offenders.
But correspondents say the law has hardly proved a deterrent and attacks on women continue to be reported from across the country.
Last week, two teenage cousins were gang raped and hanged from a tree in the northern state of Uttar Pradesh.
On Tuesday, reports said police were investigating the attempted rape of a female judge in Aligarh, also in Uttar Pradesh.