Indian PM Narendra Modi 'likely to visit US' to meet President Obama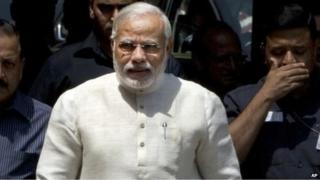 India's new Prime Minister Narendra Modi is due to travel to the US for his first meeting with President Barack Obama in September, media reports say.
He has accepted Mr Obama's invitation and the dates for the meeting are being finalised, the Times of India reports.
Since 2005, the US has refused to issue him a visa because of the 2002 anti-Muslim riots in his Gujarat state.
After his BJP party won a landslide in the election, Mr Obama called Mr Modi and invited him for a visit.
A foreign ministry spokesman declined to comment on the reported visit.
But Indian media reports, quoting official sources, said Mr Modi would travel to Washington for bilateral talks in the last week of September when he visits New York to attend the UN General Assembly.
Delhi and Washington have strong security and trade ties, but relations have deteriorated in recent months after a row over the arrest and brief jailing on an Indian diplomat in New York on a visa fraud charge.
Delhi ordered a series of reprisals against the US after the arrest in December last year, and the US ambassador to India Nancy Powell resigned her post earlier this year.
Correspondents say Mr Modi's expected visit to the US will go a long way in mending the strained ties between Delhi and Washington.