Indian media: Narendra Modi's US visit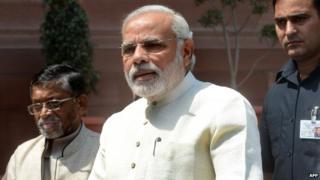 Media in India feel Prime Minister Narendra Modi's proposed meeting with US President Barack Obama is likely to open a "new chapter" in Washington-Delhi ties.
Mr Modi is due to travel to the US for his first meeting with President Barack Obama in September, papers say.
The visit will be significant because since 2005, the US has refused to issue him a visa because of the 2002 anti-Muslim riots in his home state of Gujarat.
However, Mr Obama invited Mr Modi for a visit after he led his Bharatiya Janata Party's (BJP) to a landslide victory in the general election.
Papers are seeing the visit as an "opportunity to reset" bilateral relations which have deteriorated in recent months after a row over the arrest and brief jailing of Indian diplomat Devyani Khobragade in New York on a visa fraud charge.
"Mr Modi's acceptance is a pragmatic step, confirming he's willing to let bygones be bygones and not let the erstwhile decade-long US visa ban on him come in the way of one of India's most critical foreign relationships," says The Times of India.
The paper adds that "the U-turn in the US's attitude towards Mr Modi means both sides can now focus their energies on pushing forward trade and investment, while dropping the animosity generated by the rough treatment meted out to Devyani Khobragade in New York".
The paper also feels that both countries "need each other now more than ever" on the foreign policy front.
"The planned US troop withdrawal from Afghanistan will create a security vacuum that's of great concern to India. Delhi and Washington need to put their heads together to work out a comprehensive security plan for the region. Economy and security ought to be fundamental to a rebooting of India-US ties," it says.
Agreeing with the view, an article in The Asian Age says the visit could provide a fillip for realising the "true potential" of India-US ties.
"The United States needs to be sensitive to India's global interests and aspirations, and provide it with cutting edge technology in strategic fields of civil nuclear power, space and the maritime domain. Mr Modi and Mr Obama can begin a new mutually beneficial chapter in Indo-US relations," it says.
'Sari diplomacy'
Meanwhile, papers are reporting that Mr Modi's first foreign visit as PM is likely to be to Bhutan later this month.
Mr Modi's decision shows he is "keen to start his foreign tours from the neighbourhood" and Bhutan is the "friendliest among all neighbouring countries", The Indian Express says.
Thimpu was chosen because it has not taken any decision "inimical" to Indian interest despite "pressure" from powerful countries, it adds.
And finally, media see Pakistan Prime Minister Nawaz Sharif's decision to send a white sari for Mr Modi's mother as "sari diplomacy".
Mr Modi, who had earlier sent a shawl for the Pakistani PM's mother, tweeted his gratitude for the present.
"Nawaz Sharifji has sent a wonderful white sari for my Mother. I am really grateful to him & will send it to my mother very soon," he wrote.
BBC Monitoring reports and analyses news from TV, radio, web and print media around the world. For more reports from BBC Monitoring, click here. You can follow BBC Monitoring on Twitter and Facebook.