Sumitra Mahajan: India BJP veteran elected parliament Speaker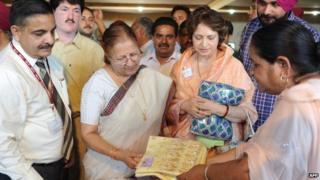 Senior Bharatiya Janata Party leader Sumitra Mahajan has been unanimously elected the Speaker of India's parliament, officials say.
Prime Minister Narendra Modi and senior MPs from all parties proposed her name in the Lok Sabha (the lower house) on Thursday.
Ms Mahajan, 72, is an eight-term MP from Indore in the central state of Madhya Pradesh.
A week-long session of the new parliament began on Wednesday.
Ahead of Friday's election, Ms Mahajan told BBC Hindi that she will work to ensure the Lok Sabha performs its legislative duties.
"I'll stress on more work in the Lok Sabha. There should be good co-ordination between the treasury and opposition benches to complete the agenda. People have great expectations, we have to increase work hours."
Business was laboured in the last few sessions of the outgoing parliament with unruly MPs often holding noisy protests.
On one occasion, an MP even managed to smuggle in pepper spray and use it on some of his unsuspecting colleagues.
But Ms Mahajan says she knows how to deal with such incidents.
"Sometimes when children fight the mother scolds them with love, when they fight I might use this motherly attitude."
Lovingly called "Tai" - elder sister in Marathi - Ms Mahajan is known for her amicable nature and has friends and admirers in all parties, says the Press Trust of India.
The first day of the new parliament was adjourned after a brief sitting which paid tribute to Rural Development Minister Gopinath Munde who died in a car crash on Tuesday.
Ahead of the session, the prime minister vowed that his government would work hard to to fulfil the hopes and aspirations of India.
Mr Modi's BJP won a landslide in the recent general election and dominates the house with an outright majority.