Five students killed in water surge in Indian Himalayas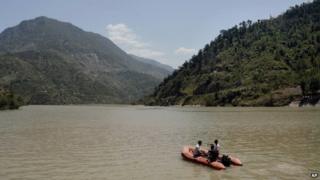 Rescue workers have found the bodies of five students and are searching for 19 others missing after being swept away by a sudden surge of water in India's Himachal Pradesh state, officials said.
The bodies had been discovered from the Beas river in Kullu valley where the incident happened on Sunday.
The surge was a result of water being released from an upstream dam.
The students, who were on a college trip, had reportedly left a bus to take photographs when the surge occurred.
Scores of soldiers, divers and other rescue workers are searching the river banks, and using kayaks and inflatable dinghies to look for the missing students.
Senior police officer Rakesh Kanwar told reporters: "It is very difficult to retrieve the bodies due to deep cavities at the dam site."
The incident took place some 200km (125 miles) from the state capital, Shimla, as some 50 students from an engineering college in the southern city of Hyderabad were travelling to the popular tourist resort of Manali.
The students had got off the bus to take photographs at the edge of the river when the sudden rise of the water washed them away, officials said. The water was released by the local state-run Larji power project dam, reports said.
Students and teachers said they had received little warning before the surge.
"I tried to alert my friends... I ran towards my friends but by then, the water level had shot up," student Ravi Kumar told the Press Trust of India news agency.
"I tried rescuing four or five of them but, in a matter of seconds, the water had risen to 5-6ft. My friends lost their footing and drowned before my eyes."
The Himachal Pradesh government has ordered an investigation into the cause of the incident amid media reports that several engineers from the Larji power project have been suspended.
Mandeep Singh, an engineer from the hydroelectric plant, said a "warning hooter" was sounded before the water was released but "it was "not heeded".