Indian media: Power crisis amid heat wave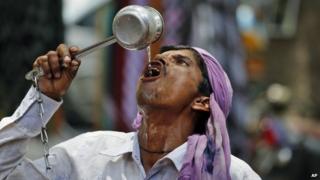 Media urge the federal government to immediately address the problem of power outages in northern Indian states.
An intense heat wave has been sweeping northern states of India in the past few days with temperatures reaching as high as 47C (118F).
The demand for electricity has sharply risen because more people are using air conditioners and other cooling appliances
Low production at some power plants is also causing prolonged power outages in many cities, reports say.
Papers feel solving this "power problem" is one of the "first pressure tests" of the newly-elected government led by Prime Minister Narendra Modi.
"The new government has to find an immediate and a long-term solution, failing which it will be held accountable," says The Pioneer.
The Hindustan Times says the power crisis is likely to affect India's "growth story".
"Power blackouts aren't really the type of events that any aspiring global economic superpower would showcase. Such blackouts and power failures will only fill up the sceptics' quiver of arrows to run down the India growth story," the paper says.
Wealth list
Meanwhile, the new government is working on a plan to "bring back" the image of India as a safe tourist destination to boost tourism and increase foreign exchange earnings, reports say.
"The issue of safety and security of tourists, especially the women tourists, is the government's utmost concern. The government recognises the role tourism and hospitality can play as a foreign exchange earner and their ability to create millions of jobs every year," the Mint website quotes Tourism Minister Shripad Yesso Naik as saying.
And finally, a leading consulting group has ranked India 15th in its global wealth report, The Times of India reports.
India had 175,000 millionaire households in 2013, according to The Boston Consulting Group's annual report on the global wealth-management industry.
"India's position improved slightly from 2012 when it had ranked 16th in the world… India is projected to become the seventh wealthiest nation by 2018. The number of ultra-high-net-worth households in India, those with 100m dollars or more, stood at 284 last year," the report adds.
BBC Monitoring reports and analyses news from TV, radio, web and print media around the world. For more reports from BBC Monitoring, click here. You can follow BBC Monitoring on Twitter and Facebook.