India: Hanged woman rape claims in Uttar Pradesh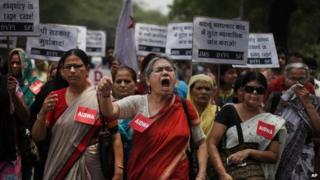 A woman's body has been found hanging from a tree in a village in Uttar Pradesh, Indian police say.
A post-mortem is reported by Indian media to have been held to see whether the woman was raped but its findings are inconclusive. Her family has reportedly said she was gang raped.
It comes weeks after two teenage girls in the same state were gang raped and found hanging from a tree.
Prime Minister Narendra Modi has said protecting women should be a priority.
'Threatened'
Bahraich's Superintendent of Police Happy Guptan told the BBC the victim appeared to be a 44-year-old woman from a nearby village.
She had previously been threatened by locals for selling liquor in the area, he said.
The family had lodged reports against five people in relation to her death, he added.
The NDTV news channel reported that the autopsy into her death did not confirm rape. It says that police have "hinted at the possibility of suicide".
On 29 May, two teenage girls were found hanged from a tree in Uttar Pradesh's Badaun district. A post-mortem examination confirmed multiple sexual assaults and death due to hanging.
The victims' families said it took police more than 12 hours to respond to reports they were missing, and a federal police investigation was ordered.
In the city of Lucknow, hundreds of protesters demanded that the local government minister end violence against women in the state.
Three suspected attackers have been held, along with two policemen accused of dereliction of duty and criminal conspiracy.
'People won't forget'
Separately on Wednesday, Mr Modi said in a parliamentary speech that the government had to act against attacks on women.
"Respecting and protecting women should be priority of the 1.25 billion people in the country," he said.
"All these incidents should make us introspect... the country won't wait and people won't forget."
Scrutiny of sexual violence in India has grown since the 2012 gang-rape and murder of a student on a Delhi bus.
The government tightened laws on sexual violence last year after widespread protests following the attack.