India hangings: Fourth woman dies in Uttar Pradesh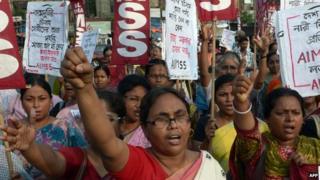 A teenager has been found hanging from a tree in a village in northern India, the fourth woman to die in such a way in recent weeks in Uttar Pradesh state.
A post-mortem confirmed death by hanging, but did not find she was raped as the 19-year-old's family alleged.
A day earlier, another woman's body was found hanging from a tree in the state.
The gang rape and murder of two girls found in similar circumstances last month sparked outrage. Correspondents say more cases are now being reported.
Such attacks have long taken place in Uttar Pradesh, reports the BBC's Geeta Pandey in Delhi, but recent outrage over sexual violence has meant that many more cases are being reported to police and getting media coverage.
Uttar Pradesh, India's most populous state with more than 200 million people, is also home to a staggering number of poor people and it is the poor and disadvantaged low-caste women who are most at risk of such crimes, our correspondent adds.
The body of the latest victim was found in a village in the state's Moradabad area on Thursday.
Following the post-mortem examination, police inspector general Amarendra Sengar said "rape is not confirmed, she died due to hanging".
Police told the BBC they were also investigating whether her death could have been a so-called "honour killing".
The case follows a spate of killings and reports of rape, many in Uttar Pradesh, including one of a woman who says she was gang raped inside a police station in the state.
"The sub-inspector accused of committing the rape of the woman has been put under arrest while we have launched a manhunt for the three constables accused of being party to the crime," a spokesman at state police headquarters was quoted as saying by Reuters news agency.
Also on Thursday, it emerged that two girls staying at a hostel run by a church in southern Tamil Nadu state had been raped at knifepoint.
Police in the town of Pollachi near Coimbatore have set up special teams to find the man or men who attacked the girls, both of whom are thought to be under 13.
Outcry
On Wednesday, a 44-year-old woman was found hanging from a tree in the Bahraich area.
Police said she had been threatened by locals for selling alcohol in the area and her family allege she was gang raped. Her post-mortem examination proved inconclusive.
But it was the case on 29 May of two teenage girls who were gang raped and hanged in Badaun district that renewed a countrywide outcry over sexual violence.
Three suspected attackers have been held in that case, along with two policemen accused of dereliction of duty and criminal conspiracy.
India's new Prime Minister Narendra Modi has said protecting women should be a priority.
Scrutiny of sexual violence in India has grown since the 2012 gang-rape and murder of a student on a Delhi bus.
The government tightened laws on sexual violence last year after widespread protests following the attack.