Indian politicians' 'unfortunate' rape remarks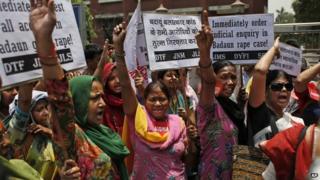 A series of rape cases in northern India have once again turned the spotlight on the issue of women's safety. New cases of rape have been reported in Uttar Pradesh, after two teenage girls were gang raped and hanged from a tree in Badaun district in the northern state last month.
On Thursday, a 19-year-old woman was found hanging from a tree in a village in Moradabad district. Police said they were also investigating another case of a woman found hanging from a tree in Bahraich in the same state a day earlier.
India's politicians have been reacting to rape cases in the media, but some of their statements have drawn intense criticism.
RR Patil, home minister of Maharashtra state
"Even if we provide one policeman per house we can't stop crimes against women... The rise in atrocities against women is due to obscene images used in advertisements," Mr Patil was quoted as saying by Indian newspapers and websites on Wednesday.
The minister later issued a statement, saying he had been misquoted by the media and the security of women was the top priority of his government.
Babulal Gaur, home minister of Madhya Pradesh state
"It [rape] is a social crime which depends on the man and the woman. It is sometimes right and sometimes wrong," Mr Gaur said on 5 June.
Ramsevak Paikra, home minister of Chhattisgarh state
"Such incidents [rapes] do not happen deliberately. These kind of incidents happen accidentally," he said on Saturday.
Mr Paikra later said he had been misquoted.
Mulayam Singh Yadav, chief of the regional Samajwadi Party
"Boys make mistakes. They should not be hanged for this. We will revoke the anti-rape laws," Mr Yadav had said during his campaign for the recently-concluded general elections.
Mr Yadav's party rules Uttar Pradesh state where many a number of recent rape cases have been reported.
Akhilesh Yadav, chief minister of Uttar Pradesh state
The chief minister recently reacted angrily when asked about the rising number of rape cases at a news briefing.
"You are safe, why are you bothered?" Akhilesh Yadav asked a journalist.
Kailash Vijayvargiya, minister in Madhya Pradesh state government
"If the limit of morality is crossed by women, such cases will happen," he said in January last year.
Dharamveer Goyat, senior politician in Haryana state
"I have no hesitation in saying that about 90% of the girls consensually go with men and then they end up meeting criminal minds and become targets of rape," he said in 2012.
He also later issued a clarification, saying he had no intention to criticise women.
BBC Monitoring reports and analyses news from TV, radio, web and print media around the world. For more reports from BBC Monitoring, click here. You can follow BBC Monitoring on Twitter and Facebook.