Indian media: Rising inflation to test Modi government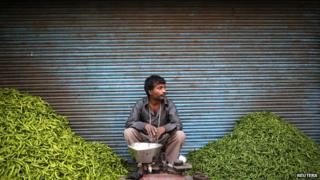 A more-than-expected rise in India's inflation rate in May is likely to test Prime Minister Narendra Modi economic policies, papers say.
Reports say India's main gauge of inflation, the Wholesale Price Index, rose 6.01% from a year earlier, up from 5.3% in April, to reach a five-month high.
"Rising prices of food and beverages like coffee, tea, poultry, fish and vegetables pushed up inflation to five-month high of 6.01% in May," The Times of India says.
Mr Modi won the general election on the back of promises to swiftly control the inflation.
"Three weeks after taking charge and amid the initial euphoria slightly on the wane, the Narendra Modi-led central government on Monday faced its first major brush with bitter macroeconomic realities," the Business Standard says.
"Inflation at five-month high, price monster to test PM Modi," reads a headline in the Hindustan Times.
Earlier in the week, Mr Modi had acknowledged the issue of price rise, saying a "bitter medicine" was needed to solve the problem.
Finance Minister Arun Jaitley has blamed the rising inflation on hoarding of food stocks, the India Today website reports.
"The government is seized of the matter and is committed to ease supply side constraints. The rise in prices of food articles can also be attributed to withholding of stocks on account of apprehension of a weak monsoon," the paper quotes from Mr Jaitley's comment on his Facebook page.
Meanwhile, inflation may be worsened by a weak monsoon and disruptions in oil supplies from Iraq, reports say.
"A sharp escalation in internal strife in Iraq, which could cause crude oil prices to rise further, and expectations of a below-normal monsoon have also injected a renewed sense of uncertainty in the economy," the Mint website reports.
'Heart-warming' story
Meanwhile, papers continue to express concerns over the "poor state of reconstruction" in the Himalayan state of Uttarakhand a year after devastating floods hit the region.
Over 6,000 people lost their lives in the floods that hit the mountainous state in June last year.
The reconstruction work is "nowhere near completion", says The Hindu.
The paper urges the government to maintain "the right balance between its development needs and the vulnerability factors".
Experts said rampant construction, mining and massive power projects in the northern Himalayan state had contributed to last year's flood disaster.
The Hindustan Times also urges the authorities to not tamper with the fragile ecological system to build more hydropower projects in the state.
"One would have expected the state to be cautious while chalking out its future development plans. But that does not seem to be happening: While tourism has been regulated, when it comes to hydropower, the state seems to have not learnt its lessons," the paper says.
And finally, in a heart-warming story, traffic in the southern city of Chennai came to a halt to let an ambulance transport a heart that eventually helped save a life.
"In a textbook example of precise coordination between surgeons of two hospitals and the city traffic police, a medical team transported a heart from Government General Hospital to Fortis Malar Hospital in Adyar, about 12km (7.4 miles) away, in less than 14 minutes," the paper says.
In traffic, any vehicle usually takes 45 minutes to cover the same distance.
BBC Monitoring reports and analyses news from TV, radio, web and print media around the world. For more reports from BBC Monitoring, click here. You can follow BBC Monitoring on Twitter and Facebook.