India road crash kills 13 tourists in Himachal Pradesh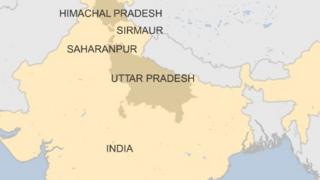 At least 13 tourists were killed when their bus swerved off a mountain road and fell into a gorge in the northern Indian state of Himachal Pradesh.
The accident took place in Sirmaur district late on Monday, police said. Forty others were injured.
Local villagers who were the first to reach the scene struggled in the dark to remove the bodies from the wreckage.
Bus crashes are common in India and often caused by poorly maintained vehicles, overloading and bad driving.
More than 138,000 people died in road accidents in India in 2013, according to government figures.
Monday night's accident took place when the bus was returning after visiting tourist spots in the region.
Most of the passengers were from Saharanpur district in the neighbouring state of Uttar Pradesh.
A week ago, 24 students from Andhra Pradesh were swept away by a sudden surge of water released from an upstream dam while on holiday in the Himalayan state.
The students, who were on a college trip, had reportedly left a bus to take photographs when the surge occurred.