Iraq conflict: India in touch with nurses stranded in Tikrit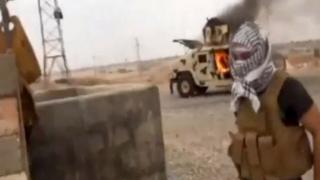 The Indian government has said it is in touch with 46 nurses stranded in a hospital in the Iraqi city of Tikrit, which is under militant control.
Red Cross volunteers who visited the group report they are completely safe, India's envoy in Iraq told BBC Hindi.
India has also issued a travel advisory asking its citizens to not travel to Iraq and those already there to leave.
Fighters from the militant Sunni group ISIS have seized a number of Iraqi towns and cities in the past week.
Ambassador Ajay Kumar said he was in contact with the Red Cross and United Nations officials, but that it was safer for the nurses to stay put in the hospital.
"The nearest airport is Baghdad which is at least 100km (62 miles) away and it's not safe to travel there by road."
A ministry of external affairs spokesman in Delhi said most of the nurses wanted to stay on in Iraq.
But many of the nurses, all from the southern state of Kerala, and their families told BBC Hindi's Imran Qureshi in Bangalore that they were keen to leave Tikrit.
"Officials from the Indian embassy in Iraq have been in touch. We've also been visited by a team from the Red Cross and they have promised to evacuate us soon," Marina, one of the nurses stranded in Iraq, told our correspondent on telephone from Tikrit.
"We have been waiting for a vehicle to come and take us from here, but it seems like everyone is giving us empty assurances. We have no hope left any more," she said.
The mother of one of the nurses stranded in Tikrit said her daughter saw armed militants roaming around the hospital.
"I spoke to [my daughter] on Sunday night. She said they were all hoping that they would be evacuated from the hospital soon. I am hopeful the government will soon find a way to bring them back."