Iraq conflict: Forty Indians abducted in Mosul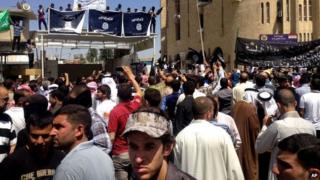 India has confirmed that 40 of its citizens have been kidnapped in the violence-hit Iraqi city of Mosul.
The men were construction workers, a ministry of external affairs spokesman said. India had not received any ransom demand, he added.
A 24-hour helpline has been set up for the families and a special envoy is being sent to Baghdad.
On Tuesday, the government said it was in touch with 46 Indian nurses stranded in a hospital in Tikrit.
Tikrit and Mosul are under the control of the militant Sunni group ISIS. They are among a number of Iraqi towns and cities seized in the past week.
"Forty Indian workers of the Tariq Noor Al Huda company in Mosul have been kidnapped," foreign ministry spokesman Syed Akbaruddin told reporters in Delhi.
"We have not received any calls of any nature asking for ransom... and it is not known where they are being held," he added.
The workers are mostly from northern India.
Earlier on Wednesday, India had said it was unable to contact the men, leading to speculation that they had been abducted.
Meanwhile, the nurses stranded in Tikrit have told BBC Hindi that they are safe, but a new management which has now taken over the hospital has refused to pay their salary arrears that have been pending for two to four months.
The nurses said they were confined to a dormitory within the hospital and had had no work for the last few days because only the emergency department at the hospital was working.
While a group of 14 nurses want to return home, the others say they want to work in other safer parts of Iraq.
India says it is in contact with the Red Crescent and the United Nations, but it is safer for the nurses to stay put in the hospital since it is not safe to travel by road at the moment.
India has issued a travel advisory telling its citizens to not travel to Iraq, and those already there to leave.