Iraq conflict: Family of abducted Indian speaks to BBC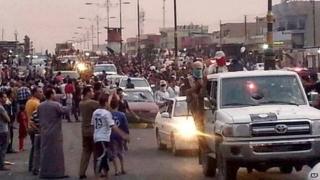 The father of one of the 40 Indians kidnapped in the Iraqi city of Mosul says that his family has not heard from their son since Sunday.
Bulaakar Singh told BBC Hindi that his son, Jitendra Kumar, had been working in Iraq for the past 11 months.
A ministry of external affairs spokesman said Iraq had informed them where the men were being held, but he declined to reveal the location.
Forty-six Indian nurses are also stranded in a hospital in Tikrit.
Tikrit and Mosul are under the control of the militant Sunni group ISIS. They are among a number of Iraqi towns and cities seized in the past week.
The abducted men are construction workers, employed with an Iraqi firm. India has not yet received any ransom demand.
A 24-hour helpline has been set up for the families and a special envoy has been sent to Baghdad.
Mr Singh, who lives in Punjab's Syalka village, said the last time he spoke to his son was on 15 June.
"Jitendra said he was fine, he was getting food and had no problems. He also told us about fighting in Iraq. He said many of the companies had abandoned their projects and run away.
"Jitendra said they had been moved to another location, but he had no idea where he had been taken," Mr Singh added.
On Thursday, foreign ministry spokesman Syed Akbaruddin said the Iraqi government had determined the location where the abducted Indian workers were being held captive with workers of a few other nationalities.
"Our embassy in Baghdad is following up with the Iraqi ministry. There are several meetings that are planned between the Indian ministry and the Iraqi embassy. We do have an understanding of the location but I will not be able to tell the location as of now," he said.
On Wednesday, Mr Akbaruddin said the government was in touch with the nurses who were confined to a dormitory within a hospital in Tikrit.
India says it is in contact with the Red Crescent and the United Nations, but it is safer for the nurses to stay put in the hospital since it is not safe to travel by road at the moment.
India has issued a travel advisory telling its citizens to not travel to Iraq, and those already there to leave.