India passenger train derails in Bihar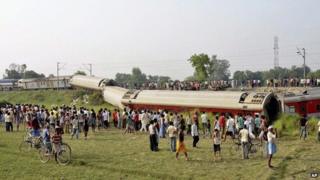 Several coaches of a passenger train have derailed in India's Bihar state, killing at least four people and injuring 10 others, officials said.
The Rajdhani Express was travelling from Delhi to Dibrugarh in the north-eastern state of Assam when it derailed near Chhapra station in Bihar.
Rescue teams have been sent to the site, with reports of some passengers being trapped.
Railway officials suspect that Maoist rebels were behind the incident.
The rebels, who say they are fighting for the rights of indigenous tribal people and the rural poor, are active in several eastern and central states of India.
"The reason for the incident is said to be sabotage. A strike was called by Maoist rebels [in Chhapra district] yesterday night and due to that the accident may have occurred," Railway Minister DV Sadanand Gowda told the ANI news agency.
However, the local police denied the claim.
"We haven't got anything at the site which indicates that Maoists were behind the incident. There is no sign of sabotage at the site," Chhapra police chief Sudheer Kumar Singh told BBC Hindi.
India's railway network operates 9,000 passenger trains and carries some 18 million passengers every day.
There have been numerous train accidents in recent years, killing hundreds of people.
Last month at least 20 people were killed after a passenger train derailed and hit a stationary goods train in Uttar Pradesh state.
In December last year, 26 people died in a fire which engulfed a carriage of the Nanded-Bangalore Express while it was travelling through southern Andhra Pradesh state.
In August, 28 people were killed after being hit by an express train while crossing the tracks in the state of Bihar.