Indian media back strong ties with Bangladesh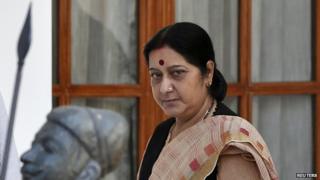 Media in India feel Foreign Minister Sushma Swaraj's visit to Bangladesh is a continuation of the new government's policy of integrating South Asia.
In her first solo foreign visit after taking oath, Ms Swaraj will hold talks with Bangladeshi leaders on key issues including a land boundary agreement and a proposed pact on sharing water from the Teesta river, papers say.
Ms Swaraj had accompanied Prime Minister Narendra Modi to Bhutan earlier this month.
Papers are calling on India to strengthen ties with Bangladesh to further promote regional growth.
"Prime Minister Narendra Modi's outreach to the neighbourhood continues…India must offer a roadmap for ties that keeps Bangladesh interested and benefits both countries...," says the Hindustan Times.
The paper advises Ms Swaraj to skip talking about the influx of Bangladeshi immigrants in India.
"Her challenge will be to persuade Dhaka to look beyond sensitive issues and perhaps offer infrastructure cooperation as an area that placates critics," it adds.
Agreeing with the thought, The Times of India says "the decision to invite all South Asian leaders for Mr Modi's swearing-in ceremony sent out positive signals to India's neighbourhood. Ms Swaraj's Bangladesh visit must build on this and pave the way for transformed ties with India's vital eastern neighbour".
The paper says good relations with other neighbours will help India improve its ties with Pakistan.
"Good relations with Bangladesh - and with Myanmar, Bhutan and Nepal through bilateral and multilateral platforms - can serve as an effective model of development, incentivising Pakistan to change its India policy and join the growth momentum," it adds.
Iraq rescue
Staying with international news, at least 17 Indians have been evacuated from violence-hit cities of Iraq, India's foreign ministry says.
The ministry said it was still trying to rescue a group of Indians kidnapped in Mosul and a group of nurses stranded in Tikrit.
Mosul and Tikrit are among a number of Iraqi towns and cities seized in recent days by the militant Sunni group ISIS.
The ministry's spokesperson Syed Akbaruddin added that the 39 Indians abducted in Mosul had "not been hurt or harmed" and the 46 Indian nurses in Tikrit were also safe, the paper added.
And finally, in a positive initiative, the western state of Gujarat has announced that 33% jobs in the state's police force will be reserved for women, The Hindu reports.
"It is necessary to empower women for their uplift in the society. My government has decided to provide 33% reservation to women in new recruitment in the police force. It will be implemented in all cadres", Chief Minister Anandiben Patel told reporters on Tuesday.
PC Thakur, the state's director general of police, said Gujarat had become the first state to implement 33% reservation for women in police.
BBC Monitoring reports and analyses news from TV, radio, web and print media around the world. For more reports from BBC Monitoring, click here. You can follow BBC Monitoring on Twitter and Facebook.