India v England: A historic series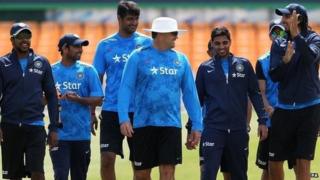 The last time India toured England for a full five-Test series, in 1959, everything that could possibly go wrong did.
India lost all five Tests by comprehensive margins, and their batsmen looked completely out of their depth against England's formidable pace attack, led by the fiery Fred Trueman and the underrated Brian Statham.
In the first Test, which India lost by an innings, star batsman Chandu Borde fractured a finger facing Trueman and spinner Bapu Nadkarni bruised his left hand; in the second, during an eight-wicket defeat at Lord's, top scorer Nari Contractor had a rib broken by a Statham snorter.
The rubber was lost in the third Test by the humiliating margin of an innings and 173 runs, and at the Oval in August England won all five Tests in a series for the first time in their history, with the son of an Indian immigrant, Raman Subba Row, opening for England and adding insult to injury by scoring 94 against a wilting and depleted four-man attack.
The only consolation for India in this abject saga of failure came in the fourth Test, and it had nothing to do with the originally-selected touring party.
Worthy again
Abbas Ali Baig, an Oxford University freshman yet to play first-class cricket in India, was called up to reinforce the demoralised tourists after the series was already lost, scored 100 against Middlesex and was promptly pitchforked into the fourth Test team to bat at number 3.
He made a strokeful 112 on debut until he ran himself out. It was the stuff of schoolboy fantasy, except that India still lost that match by 171 runs.
At the end of the series English critics were unanimous that India was undeserving of the honour of a full tour. For the next five decades it was confined to playing three (or occasionally four) Tests and sharing the summer with another touring team. It has taken 55 years for India to be deemed worthy once again of facing England for a full five Tests.
It is an honour that should have come earlier, when India could boast of giants like Tendulkar, Dravid, Sehwag, Ganguly and Laxman in their ranks.
Today's Test team is in the early stages of rebuilding after the departure of those superstars, and may not fare much better than their predecessors in 2011, who lost all four Tests, undone by English speed and swing in cold and blustery conditions.
It is striking that this will be the first five-Test series any of the Indians will have played, ever: not even skipper MS Dhoni has had the experience.
The English, on the other hand, regularly contest five-Test Ashes series against Australia, and many of the current players are familiar with the demands of the format.
That's not the main reason India start as underdogs.
India have hardly ever done well in English conditions: Indian Test teams have been touring England since 1932 but only three times, in 1971, 1986 and 2007, have they had the better of their hosts in the series - and two of those were merely 1-0 defeats.
Spin strength
Various reasons have been adduced for India's inability to hold its own the rest of the time: the cold climate, the green pitches, the speed and swing generated by the English bowlers in helpful conditions they know well, all of which are unfamiliar to Indians reared on the dry batting tracks back home.
India's bowling strength lies in spin, but English wickets can break the most redoubtable spinner's heart; and India's pacemen are all too often not of international standard.
Every one of these criticisms and fears appears valid of the 18-man touring party, the largest ever selected by India. All seven Indian pacemen selected were tried out in the tourists' opening game, and all were given a sound thrashing by an unheralded Leicestershire side that doesn't even boast a Test batsman.
So: is a repeat of 1959 on the cards?
I still think not: our batsmen have better technique against pace than their predecessors did, and in Cheteshwar Pujara and Virat Kohli, two youngsters of extraordinary promise who could yet prove worthy successors to the giants they have replaced.
India's bowling, however, inspires a good deal less confidence, as Leicester showed yet again. I don't see us bowling England out twice in a match, let alone the 10 times we need to in the series.
An Indian series victory, therefore, might be a yearning too far: even a respectable draw would be an occasion for surprised celebration.
The iconic image of the India-England cricketing relationship of the last decade in Indian eyes must be that of the victorious Indian captain, Saurav Ganguly, stripping off his shirt and waving it above his head on the Lord's balcony.
Lord's is a pavilion from which many have been turned away for not sporting a jacket and tie; Ganguly's brash gesture seemed an act not just of defiance but of revolt against convention, an overturning of the old order.
The old order reasserted itself with England's crushing series win in 2011. The best Indian fans can hope for, then, is to restore the equilibrium.
The unflappable Dhoni is unlikely to be waving any garments about his unadorned torso this summer. But a smile, and a shared hand on the trophy, are worth hoping - and praying - for.