India's growing breast milk banking network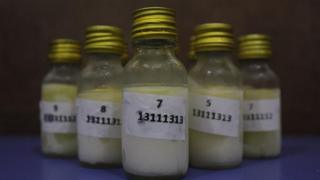 Two months before her due date, Gauri Meena gave birth to a baby boy at her village home in India's desert state of Rajasthan.
At 1.2kg (2.6lb), the baby was less than half the average weight of a normal Indian newborn and Ms Meena and her husband, Devilal, feared they would lose him.
Taking advice from a local doctor, they wrapped their days-old son in a thick blanket last November and took him by bus to a government-run hospital in the nearest city 130km (80 miles) away.
At the Maharana Bhopal General Hospital in Udaipur, doctors told the couple their child had a low survival rate.
The infant, with his underdeveloped immune system, had contracted sepsis - a bacterial infection which can be life-threatening - and was given antibiotics as treatment.
Doctors also told Ms Meena it was important the baby received mother's milk as it contained hormones and growth factors that would help him become stronger.
Surplus milk
The 22-year-old - malnourished and stressed - was not producing enough of her own. But thankfully, help was on hand.
The first human milk bank in north India, according to the NGO operating it, has been offering for free since April last year what health experts have long described as "liquid gold".
From its small, well-equipped clinic within the premises of the state-run hospital, the bank collects excess milk from mothers pre-screened for various diseases like HIV and hepatitis through a pump, which is then pooled, pasteurised and frozen ready to use for up to four months.
The bank's staff ask lactating women in the nearby area to give their surplus milk with the hope that they will persuade other mothers to donate.
Over 660 women - agreeing to come at least once a week - have donated their milk since the bank opened, feeding more than 450 babies mostly kept in the Udaipur hospital's neonatal intensive care unit like Ms Meena's son.
"He's recovering fast," said Ms Meena's husband six days after their infant first received donated milk through a tube. A month later, the family had returned home.
Despite major inroads in reducing child mortality - from 2.3 million deaths of children under the age of five in 2001 to 1.4 million in 2012 - India still accounts for 20% of infant mortality globally. Over half of these deaths are of babies under 28 days old, according to a Lancet report published in May.
Doctors say in India the main killers are infections and low birth weight that blight infants in their first month, and diarrhoea and pneumonia later on.
Superfood for newborns
To prevent these deaths, the charity Save the Children says breast milk, which it describes as superfood for newborns, is the most effective solution, particularly when a baby is breastfed immediately after birth and exclusively for the first six months. The World Health Organisation and Unicef agree - with both endorsing this advice.
The Rajasthan clinic, called the Divya Mother Milk Bank, is run by an Udaipur-based NGO which in 2005 opened Mahesh Ashram, an orphanage for abandoned children in the city.
Devendra Agrawal, a yoga guru who heads the NGO, noticed that the home's children, most of whom are girls in a country with a strong cultural preference for boys, suffered from low immunity. He realised it was because they were not receiving mother's milk.
Most, but not all, of the bank's milk is given to premature babies receiving care at the government-run hospital in Udaipur because of a limited supply.
"The first priority at the bank is to children at the hospital because they struggle with life and death. My children have immunity issues, but are not facing death," Mr Agrawal explains.
The clinic, set up at a relatively small investment of around 1m rupees (£9,900;$16,000), is among only around 11 in India, its chief operations officer, Dr RK Agarwal, estimates.
In the United Kingdom, where around 770,000 children are born each year compared to about 26 million births in India, there are 17.
A few months after its opening, another bank was inaugurated in Calcutta with the backing of the local government. Two in Rajasthan's largest city, Jaipur, are also expected to open by the end of this year.
Health experts have welcomed this, but say there needs to be a bigger push by the authorities on breast milk banking.
"It is difficult because they don't believe that it would be of great benefit," said Dr Armida Fernandez, who opened India's first milk bank at a hospital in Mumbai in 1989.
Training postmen
Arun Gupta, central coordinator of the Breastfeeding Promotion Network of India, a Delhi-based non-profit, believes milk banking can help tackle child mortality as long as it is part of a larger strategy to promote breastfeeding like the one adopted in Brazil.
The South American nation today has more than 200 human milk banks - more than anywhere else in the world. As well as banks, Brazil's strategy also includes innovative measures like training postmen to provide information on breastfeeding to pregnant women and using fire-fighters to collect surplus milk for donation from lactating women.
This has contributed to the country achieving a 73% reduction in child deaths since 1990. Unicef says Brazil's under-5 mortality rate is now 14 deaths for every 1,000 children. In India, the figure is four times higher at 56.
"Brazil is a very successful model not only because there are milk banks in every major hospital, but that their policy also includes training staff for better counselling," Dr Gupta said.
"Promoting breastfeeding is labour intensive. India lacks well-trained counsellors to educate women. We need one for every 1,000 women. That's what I want to see."
For Dr Agarwal, the dream is bigger.
"Perhaps it won't be possible in my lifetime," says the 70-year old, "but I want human milk powder to be available in grocery stores.
"I want it to reach that stage in India. It's so economical. When animal milk powder is available why not human milk powder?"