How India's film festival boom is boosting indie cinema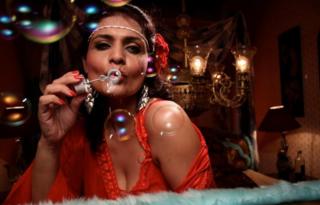 Ram Ramesh Sharma waves away a microphone on stage, his eyes shining with emotion - he can't speak.
Three days earlier the 26-year-old first time writer and director flew from his home in Bollywood's beating heart of Mumbai, India, to a tiny town high in the Himalayas.
He came to see his film Kaafiron Ki Namaaz (The Virgin Arguments) compete in the third Ladakh International Film Festival (LIFF) in Leh - a town that doesn't have a cinema.
Mr Sharma borrowed money and dropped out of film school in 2011 to shoot his feature about a troubled soldier being interviewed by a journalist in Srinagar in Indian-administered Kashmir.
Armed with posters and DVDs, he arrived at LIFF recently with hopes of mingling with star directors and getting feedback on his cinematic baby.
"We had no idea we were going to win," producer Bhargav Saikia admitted after the film won four awards, including best feature.
Searing portrayals
When it comes to cinema, Bollywood is India's undisputed hero - captivating millions with raunchy dance sequences and easy to follow stories.
But a boom in film festivals over the past decade has been turning the spotlight on India's burgeoning number of independent films like Sharma's.
Indie films have made waves with searing portrayals of real life events and fictional stories that challenge cultural norms and conservative sensibilities.
Last year, BA Pass raised eyebrows delving into the underworld of male prostitution, while in June, The World Before Her became the most successful documentary at India's box office after contrasting the conservative Hindu indoctrination at a training camp for young women with the primping at the Miss India boot camp, revealing startling similarities
The provocative content of these films has caused trouble time and again.
Anurag Kashyap's film Black Friday was banned for two years before being released in 2007 because its searing portrayal of the 1993 Mumbai bombings and Muslim-Hindu animosity was deemed too controversial.
In India, film festivals were historically run by the government, with the renowned International Film Festival of India (IFFI) inaugurated in 1952.
But cheap technology has changed things.
"At the end of the 1990s, it already started in small ways, in small towns because the minute you could show films on DVD people got together and said 'let's watch a film', so that became a little festival," said Aruna Vasudev, a film journalist who started Cinefan - one of India's first independent film festivals in 1999 - and now runs a Buddhist film festival.
"There are dozens of independent festivals in India right now, all over the place, on specialised themes, general festivals, festivals showing films from different parts of India."
The growth in festivals was fast-forwarded in the mid-2000s when digital technology made filmmaking cheaper.
More exposure
Suddenly there was an abundance of provocative documentaries and deep indie films struggling in the shadow of Bollywood.
Dharamshala International Film Festival (Diff) was started three years ago in Himachal Pradesh by two independent filmmakers who wanted to provide a platform for India's new "alternative" cinema.
"The only place where independent filmmakers can show their films are in festivals like ours," said Tenzing Sonam, Diff co-director.
Mr Sonam said films shown in Dharamshala have gone on to clinch theatrical releases and been quite successful, including Nishtha Jain's documentary Gulabi Gang - which tells the story of a vigilante women's group in rural Uttar Pradesh that fights domestic violence, child marriage and dowry crimes.
"She said the publicity from the Dharamshala festival was what actually brought her film into the limelight, so I think small festivals like ours do help bring exposure," he said.
In remote mountain towns, seaside villages and buzzing cities, film festivals are slowly building audiences for non-commercial films.
"Generally speaking all over India people just watch the big movies," said Mr Sonam. "We have to nurture them… we can't select films that might be too experimental or too strange."
He believes that alternative cinema is capturing new audiences by challenging cultural norms and tackling issues mainstream cinema stays away from.
When a student group came to his festival and saw a documentary about caste discrimination their response was "incredible".
"They had never seen a film like this before," he said. "Everyone is aware that these things happen in India but to see a film and have the director there in front of you - the question and answer session went on for ages, everyone was so touched."
Ms Vasudev said festivals breathed life into Indian documentary. "Audiences have become interested in documentary - it's taken off in a big way in the past five years."
Not enough talent
However, many complain festivals are not uncovering enough new talent.
"Small festivals right now are helping us develop our movie watching culture," said Anurag Kashyap, who pioneered India's indie scene in the early 2000s and is now one of the country's top directors.
"But most of the festivals are still geared towards popular film, there's a lot of very interesting movies coming out from India in various languages and they're not finding their feet."
Mr Saikia said mainstream festivals overlooked first-time filmmakers.
"If you don't have a known actor in your film, even in the independent space, some festivals won't even watch your film for the selection.
"Small festivals like Ladakh, they're helping us to at least get a platform."
The rise of indie film has not gone unnoticed.
MTV recently started bringing alternative films to the small screen alongside music, while in 2011 cinema chain PVR started Directors' Rare for independent movies.
Director's Rare programming head Shiladitya Bora said just 1,600 tickets were sold for their first film but now new releases average 10,000 a week.
"There is a commercial opportunity but it will take some time because the quality of Indian independent cinema is not up to the mark. With a digital camera anybody can make a film but it's a two-edged sword because film is all about craft, so it's very import for this industry to grow."
Industry insiders say the future of indie is online, with Video On Demand (VOD) turning profits for filmmakers overseas.
But VOD is nascent in India, where internet speeds are slow and millions have no access - let alone money - to spend on online films.
Until then, festivals will continue to play a key role in bringing indie films out of the dark.
Alys Francis is a Delhi-based independent journalist