Iraq crisis: Indian nurses trapped in Tikrit hospital moved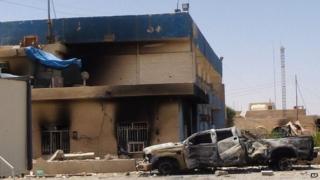 Indian nurses trapped in a hospital in the Iraqi city of Tikrit have been moved to another location, a ministry of external affairs spokesman said.
Syed Akbaruddin said the nurses were "safe and unharmed" and added that they agreed to move for their own safety.
For the past few days, 46 Indian nurses have been stranded in Tikrit, which is under militant control.
Tikrit is among a number of Iraqi towns and cities seized by the militant Sunni group Isis in recent weeks.
In the last few days, nurses holed up inside the hospital have told the BBC on phone that fighting has reached the hospital compound and there have been several explosions close to their hiding place.
Addressing a press conference on Thursday, Mr Akbaruddin said "some nurses have suffered minor injuries in an incident of glass breaking, but there has been no major injury to anybody".
Indian media reports said the nurses had been pressured into boarding buses and leave the hospital by Isis fighters, but Mr Akbaruddin refused to give any details about the circumstances in which they left or where they were headed.
"They are on the move right now. They agreed to shift for reasons of their own safety. They are all safe and unharmed. Their destination is not known at present," he said.
"The Indian embassy is in touch with them and we will try our best to ensure their wellbeing," he added.
Authorities have been unable to evacuate the nurses so far as the roads to the nearest airports, Baghdad and Irbil, have seen heavy fighting between the Iraqi army and Isis militants during the last three weeks.